When we open Lubbock's businesses  … if that's May 1 or afterwards … what will happen?
Actually … I'm not asking.
I'm telling what your business must do or I, and many others, will not do business with you.
And this is a great opportunity for the Lubbock Chamber of Commerce to help.
So much of the coronavirus chatter has been pitting these groups against each other. People who:
Take the virus seriously and worry many others are not.
Worry government has gone too far with our liberties.
Worry we're killing our economy.
There's a lot of conflicting information out there.
First, conflicting opinions.
If you read my Lubbock Lights partner Scott Mann's latest pieces excoriating the City of Lubbock for closing businesses and you read my pieces … there's a distinct difference. Scott's really ticked off. His favorite fable growing up was The Emperor's New Clothes and that probably sums it up. I'm concerned. I like to gently, when possible, prod people. In fact, one of our regular Facebook commenters questioned how Lubbock Lights could run pieces with different views.
(This is a good time to remind y'all as we near our second anniversary that Lubbock Lights was set up to provide a range of conservative commentary and other content … such as Bill Kerns on entertainment. I'm clearly a moderate conservative … which to many of my friends further to the right means I'm a liberal.)
And besides, if you know Scott and Terry do you really expect us to be in lockstep agreement? That's not going to happen. We're different guys with different views.
Then there's different information out there.
I saw Judy Woodruff interviewing Vice President Mike Pence on the PBS News Hour a few days ago. Woodruff pointed out the U.S. has more deaths than any other country. That's true. But the vice president accurately said our deaths per million are much lower than many other countries.
Texas may have the 11th highest number of cases in the country, but deaths per million people is 39th of 50 states. That's good. But Texas also has one of the lowest rate of tests in the country, Then you may have seen a Forbes story that Lubbock County has been called one of the 22 potential virus hotspots in the United States.
It's easy to make an argument with incomplete information. People in politics do it all the time. But when an issue is this serious, we need all the information we can get to make informed choices.
Saw the following Venn diagram on Facebook a couple of days ago: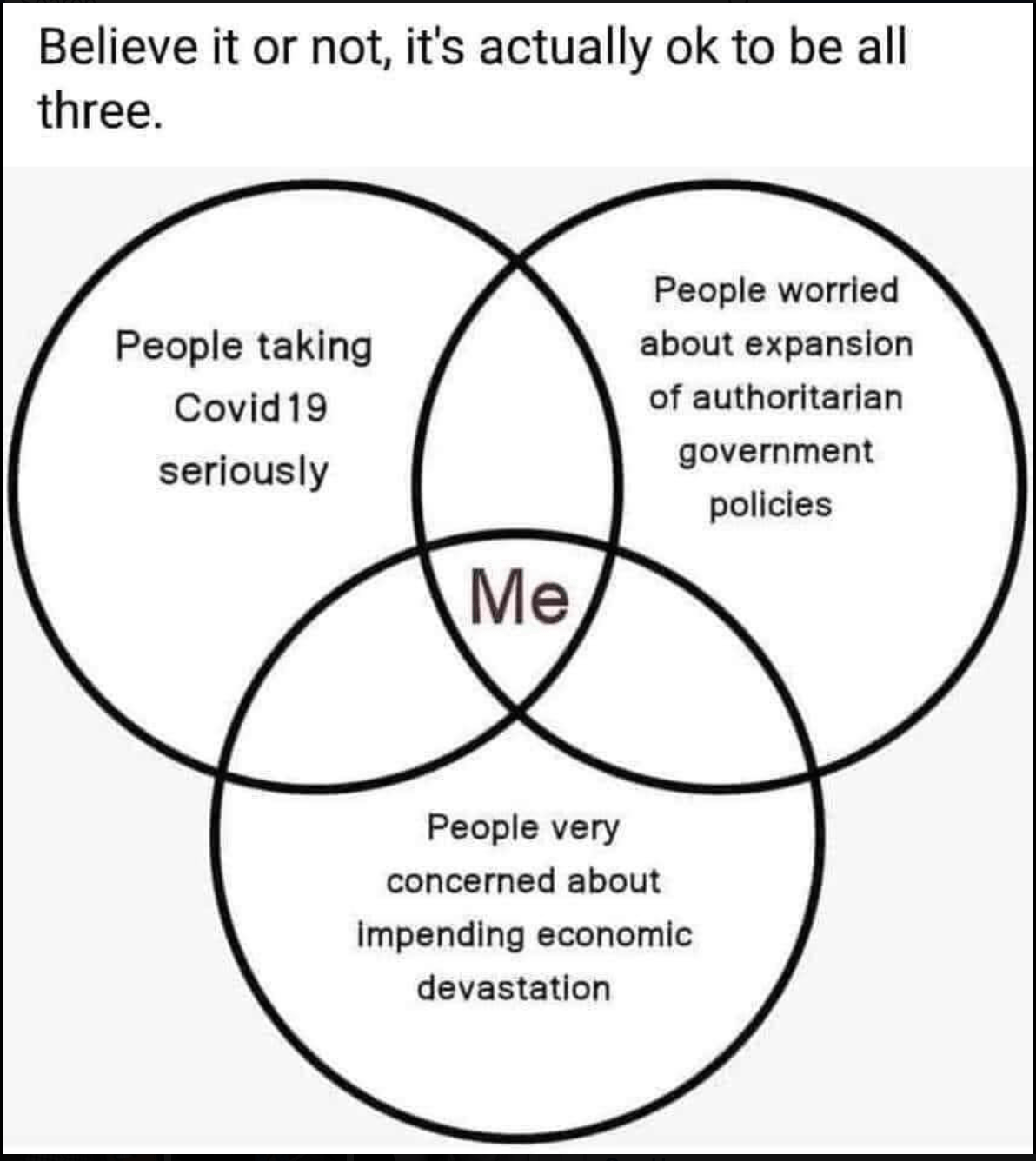 I worry about all three.
It's the curse of the journalist after four decades … we're trained to see all sides. That doesn't mean I always agree with all sides, but in this case I do … or at least empathize.
And anyone who only sees one side of this issue is, well, short-sighted. A lot of people I know who post on Facebook and lean more heavily into one of those circles, post information that supports their belief.
But as I wrote recently, no matter how you feel, we need to be responsible.
This is not some hoax. The virus is not gone. Stupidity and ignorance can help it explode.
So when you open your business, this is what you must do:
Limit the number of people and enforce social distancing.
Make sure you and your staff wear masks.
Constantly disinfect places that people touch, like checkout areas.
Provide hand sanitizer.
Take temperatures of employees and if anyone shows signs of the virus, send them home and make sure they're tested. If they test positive, you have to shut your business until it's safe.
Ain't going to do it?
At the least, watch people post stuff on Facebook about your business being irresponsible. All those people who are terrified of getting the disease will shun you. At the worst … and this would be a longshot … wait until someone can prove they got coronavirus from your business not taking this seriously and you get sued by the family of someone who died.
As much as people want Lubbock to get back to work … they want it done safely.
We ran two Facebook polls in the last week or so.
One asked:
Open business as it was? Or open business with virus safeguards? The second option was picked by 77 percent.
The next question … should  the people of Lubbock practice civil disobedience and get back to work instead of waiting for the City of Lubbock to tell them when they can? This time 60 percent said no.
The Lubbock Chamber of Commerce has a lot of information for businesses struggling during this time.
What I hope to see as businesses get closer to reopening is how to reopen your business in a safe way for you, your employees and your customers.
And if a business cannot find masks or hand sanitizer? Maybe the chamber can help there by getting larger businesses that have been open and done well financially to donate some supplies for others.
That's not as fancy as some of the things the Chamber does, but it can be one of the most important things they ever do.
Let's do this … but let's do this right.
If not, and you're frustrated by government telling you what to do … do you want government to feel compelled to take more control because you didn't?