In photo above: Atticus Finch (played by David Mitchell), left,
with
his 
son Jeremy (Grant Pike), center and
daughter Scout (played by Holly Coppola), right, in
the
Will of the Wind Productions
' 
play "To Kill a Mockingbird."  
It is being 
staged for the public March 2-3 and March 8-10 in
 the Firehouse Theatre 
at 
LHUCA, 511 Ave. K.  (Photos provided by Joshua Aguirre.)
The Details
Attraction: "To Kill a Mockingbird," stage adaptation by Christopher Sergel of the 1960 Pulitzer Prize-winning novel by Harper Lee.
Staged by : Will of the Wind Productions.
Curtain times: 7:30 p.m. March 2 (following 6:30 p.m. gala reception), 2 p.m. March 3, 7:30 p.m. March 8-9, and 2 p.m. March 10.
Where: Firehouse Theatre at LHUCA, 511 Ave. K.
Ticket prices:  All seats reserved. Tickets for March 2 gala are $33.50, includes $3.50 in fees. Tickets for all other performances $22.75, includes $2.75 in fees. Price discount offered groups of 10 or more.
Information: Advance tickets sold online at willofthewind.org. Limited seating available at the door before each performance.
Warning: This show contains mature themes and language.
Co-directors: Joshua Aguirre and Ronnie D. Miller.
Scenic designer and lighting designer: Christopher Rogers.
Sound designer: Joshua Aguirre.
Stage manager: Andrea Babineaux.
Cast: David Mitchell as Atticus Finch. Holly Coppola as Scout Finch. Grant Pike as Jeremy Finch, Ayanna Arnold as Calpurnia. Janie Curl as Maudie Atkinson. Beth Peterson as Stephanie Crawford. Verna Kimble as Mrs. Dubose. Andrew Rasa as Arthur "Boo" Radley. Grayson Sharp as Dill Harris. Jake Medina as Heck Tate. Dennis Kimble as Judge Taylor. Ronnie Miller as Mr. Gilmer. Griffin Kimble as Mayella Ewell. Patrick Jones as Bob Ewell. Robert Spencer as Tom Robinson.
The story: Scout, a young girl in a quiet Alabama town, experiences dramatic events that may affect the rest of her life. She and older brother Jem are being raised by their widowed father, an attorney named Atticus. The community's black citizens share a special feeling about Scout's dad and she is unsure why. Atticus tells Scout he is defending a young black man wrongfully accused of a grave crime. Atticus must fight a legal battle that is part defeat and part triumph.
"To Kill a Mockingbird," the Pulitzer Prize-winning 1960 novel by Harper Lee would, two years later, inspire Gregory Peck to deliver an iconic performance as Atticus Finch, earning his fifth Academy Award nomination and his only competitive Oscar. Competitors included Peter O'Toole in "Lawrence of Arabia," Burt Lancaster in "Birdman of Alcatraz" and Jack Lemmon in "The Days of Wine and Roses."
Just as there is a story in this weekend's opening of the Lubbock stage production of "To Kill a Mockingbird," there is a story behind the two men who share the directing credit.
Joshua Aguirre and Ronnie Miller share a passion for the stage, with Aguirre recognizing that actor David Mitchell achieves a "delicate balance" of "strength in calm, without being too aloof or icy."
Which is why both envisioned Mitchell in the leading role of Atticus Finch.
Aguirre and Miller each earn mortgage and grocery money by teaching, working with young people.
Miller, 42 and a native of Monahans, is a member of Will of the Wind Production's board of directors. He "had been in a high-pressure corporate job for some time, and it just was not rewarding. It was a cold environment, to say the least. I wanted to do something more meaningful, more impactful, and this was a wonderful fit."
Miller teaches physical education at Maedgen Elementary School.
Aguirre, 36, grew up in Littlefield and is the same theater company's artistic director. He teaches theater at Frenship High School and said, "I found teaching in sort of a round-about way.  Finding my way to teaching theater took even longer. After graduating from college with a degree in theater, I was unsure what I wanted to do.
"I ended up taking a job at a children's center  and loved it. I got my teaching certificate and I taught first grade for five years, and fourth grade for a year. I began really missing theater, so I became certified to teach that and taught middle school theater for four years."
"This is my first year as a high school theater teacher," Aguirre added. "I am incredibly lucky to be able to combine two passions, theater and education. It makes it easy and exciting to go to work every morning."
While Aguirre claims much more formal theater education, the two met when cast in a theatrical fundraiser called "Stormy Weather." A deep friendship began to form after being cast together in several more plays.
Years later, they formed Sidecar Theater Company. With a production partner, they rented such venues as the Lubbock Memorial Civic Center Theater and co-produced memorable productions – including a limited, yet brilliant run of Tony Award-nominated musical "The Civil War" and musical comedy "Hairspray." As part of a Lubbock Community Theatre season, Miller and Aguirre co-directed the city's first presentation of Lorraine Hansberry's prize-winning 1959 drama "A Raisin in the Sun."
They never have shied away from great theater demanding racial diversity.
Each was willing to discuss their plays, partnership and latest project.
Bill Kerns: Would you discuss some of your favorite projects?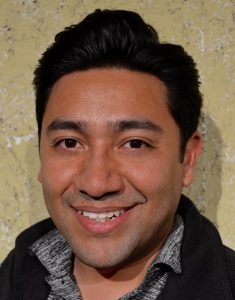 Aguirre (in photo above): I fell in love with so many for so many reasons. I loved "A Year with Frog and Toad" because I was a first-grade teacher at the time and it was the first time my two loves came together. Such a simple and endearing show and a great look at friendship in an accessible format for young audiences. I also loved 'Hairspray' because of the intense energy the cast had. That was one of the most family-based experiences I've ever had in theater. And of course "A Raisin in the Sun"  because it truly changed me as a human being. It made me look closer at the human experience than I ever had before and affected me in a complete and positive way.
Miller:  Each show has a special place. Like kids, their personalities and quirks are so different and you love them all. "A Raisin in the Sun" and "Hairspray" stand out because of the strong relationships and love we share for so many in those casts. They are just outstanding people. "The Civil War" stands out because of its scale; it was such an impressive collaboration of people and talents.
Kerns: What made "A Raisin in the Sun" so important?
Aguirre: One of the play's great accomplishments was bringing more diversity to the Lubbock stage. And I feel we put on a solid piece of theater. The thing that stuck with me most about that production, though, was the idea of, "There is always something left to love." It was spoken every night with such sincerity and care by Vonn Dent and it permeated my heart and mind. At its core, the play is about humans that make mistakes – and instead of falling apart, they stick together. Even with the play's  uncertain ending, there is this spark of hope and sense of love and family.
Miller: "A Raisin in the Sun" was such a great piece of local theater. It brought actors of color to the stage who had not had many opportunities. We celebrated and relished in the fact they were on stage, working each and every night. The communion we had with that cast was beautiful, a moment in time we never could replicate. It was truly a celebration of life and hope and all that is right with the world of theater.
Kerns: Not many can, or even want to, direct with another person. What does it demand?
Aguirre: The biggest things are the ability to set aside egos and ability to understand all people see things differently. Your view is not the only one on the planet and it is not the one the audience is going to be watching the show with. So you have to expand that view anyway as a director. Co-directing just means you have a greater reach with that expansion.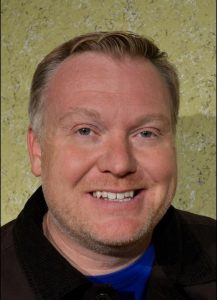 Miller (in photo above): Josh and I both have directed independently and been successful at it. The greatest thing about co-directing is it keeps you honest and humble. There are no egos on our sets. That starts with Josh and I, and it continues down the line. We will be our casts' absolute biggest fans and will do everything in our power to lay the groundwork for them to shine on stage.
Kerns: What makes you so comfortable with one another?
Aguirre: I think it comes from knowing and working with someone for more than a decade. It helps we have similar senses of humor. Being able to laugh at things is important. Otherwise, you argue about them.
Miller: Well, we care about each other, first and foremost. That always takes priority. We work in environments where relationships are the most important thing. That carries over to our stage work. We laugh a lot; we cry sometimes, too. We get mad and have to walk away from each other sometimes. But we never end a rehearsal mad at each other. We work hard at building each other up.
Kerns: When sharing direction, what parts do you split up?
Aguirre: I am the one who looks at the big picture. I know from the start what I want the entire production to look like. I usually have costume, set and lighting designs in my head before rehearsals begin. I also know what pictures I want to see on stage, so I usually take on the task of blocking the show.
Miller: I tend to handle more logistical challenges, production meetings, facilities and actor-coaching. Josh works big picture and I dig down to the smallest details.
Kerns: I know you have directed an array of plays. I mentioned, "The Civil War," "Hairspray," "A Raisin in the Sun" and now "To Kill a Mockingbird" for a reason. As you phrased it, Josh, these plays call for casting actors of color. Outside of the diversity within a number of collegiate productions, relatively few plays have been staged with African-Americans in key roles. You two have introduced many new faces, young and old.
Aguirre: It does take recruiting. It does take reaching out into the community and making those connections. You have to be willing to take a leap of faith and be willing to nurture and model and mold. We try very hard to create a safe place to work. A safe environment for creativity, mutual respect and caring.
Kerns: Is exclusion a problem of communication or something deeper?
Miller: I think it depends on the perspective of the person doing the casting.
Aguirre: When we were doing "A Raisin in the Sun," some of our actors said they avoided auditioning in the past because they felt like there were not plays being done where they felt they could be included. I find this disappointing because theater should be a place of acceptance and celebrating the human experience. I feel like the performing arts community has a unique position to share that experience with people in an impactful way. But in order to reach more people, we have to include more people. … We just have to be purposeful about inclusion and more open about the possibilities of how we tell stories in our community.
Kerns: Whose adaptation of "To Kill a Mockingbird" are you using?
Aguirre: The original version of the adaptation we are performing premiered in 1991 at the Papermill Playhouse in New Jersey, but Christopher Sergel began working on it in the 1970s. Harper Lee was very protective of her work.
Kerns: Do you feel some important characters are overlooked?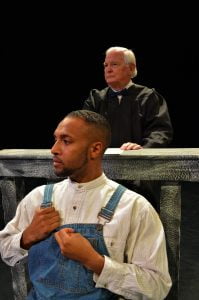 Aguirre: There are always characters in any work who you want to know a little more about. In this play, Calpurnia definitely is one of those characters. She is given a little more development in the book. But even then, I'd like to know more about her and how the events in the play affect her. The same for Tom Robinson (played by Robert Spencer in photo above with Judge Taylor behind him, played by Dennis Kimble) . We do not hear from him much except at the trial. I also wonder about Mayella Ewell after the events of the play. What happens to her?
Kerns: How do you stage the vital scene in which Scout is advised to stand because her father is passing below?
Miller: We tried hard to talk to the cast about the importance of key moments. That is certainly one of them.
Kerns: What makes the Firehouse Theatre suitable for this play?
Aguirre: This is a great space because the stage goes right into the first row of the audience. This gives us an opportunity to stage the trial in a way that feels intimate and immersive.
Kerns: You've succeeded with comedy and musicals. Do you like working with life and death issues in dramas?
Aguirre: The stakes are usually higher in dramas, so you tend to get a greater emotional payoff in the resolution of the play. Sometimes that is a good thing and sometimes you leave the theater feeling battered.
Kerns: Is it still easier to sell well-known titles, or has Lubbock become a more culturally refined theater market?
Aguirre: I think there is room for lots of things in the mix. But those well-known stories are necessary to sit alongside lesser-known gems if you are trying to produce commercially viable theater.
Kerns: When you held auditions for "To Kill a Mockingbird," was everyone present familiar with the book and the story?
Aguirre: Most of those auditioning were at least familiar with the story, even if they never had read the book or seen the movie. Our Scout (actress Holly Coppola) told me she used lots of online notes and articles to catch her up for auditions, but has since done more research in the way of reading source material.
Kerns: What do you want those seeing this play for the first time to take away with them?
Miller: I think Christopher Sergel made this answer really easy. The ending lines of the play are literally the moral of the story. It is the last thing the audience hears.
Kerns: What do you feel young theatergoers will learn from Scout?
Aguirre: Hopefully they will see a little journey of empathy in Scout. She is not a particularly pleasant child and tends to be a little self-centered. Throughout the course of this play, she learns to see things from other perspectives and is better for it.
Kerns: What was your most challenging moment to direct?
Aguirre: There is a moment toward the end of the play that took a while to reach the right physical, vocal and emotional qualities I was looking for. In situations like that, sometimes it takes trying many different things to find the right combinations and the right fit for the actor.
Kerns: Are you working with an experienced cast? And is that absolutely necessary, taking into account your past experience?
Aguirre: Most of our cast has performed on stage before. We have one cast member making a debut. Otherwise, the cast knows the ropes, at vastly varying levels. So there has been lots of opportunity for growth. But there has also been a lot of very basic, beginning actor-coaching  we have not had to do this time.
Kerns: Finally, after Sidecar, have you considered forming another company?
Aguirre: No! We had discussed maybe doing some independent things in the future, but never starting up a new company.
Miller: Infrastructure is the biggest challenge. Wanting to do theater and wanting to put up successful, commercial theater are two different things. The infrastructure demands on the latter are just huge. The sense of urgency is constant and the ability to move around pieces and get them in the proper place to create a beautiful work of art takes time and resources. Planning becomes critical. The right show at the right time with the right director and the right cast.