I should be rooting for the San Francisco 49ers in the Super Bowl this weekend in Miami (stadium pictured above).
But like many of us in Lubbock, I hope the Kansas City Chiefs win because of Patrick Mahomes, a young man who remembers where he comes from.
Why should I be rooting for Niners?
Well, sorry to say, it has to do with growing up not liking the Dallas Cowboys.
I grew up in Los Angeles, rooting for the Rams and they could never get past the Cowboys.
Then Joe Montana and Dwight Clark teamed up on "The Catch" in 1982 and the 49ers dynasty began, beating the Cowboys.
I started liking the Niners because of that, even though guys from Southern California generally don't like Northern California teams. (Along those lines, I doubt anything will ever make me like the San Francisco Giants.)
Then, in the mid-'90s, I was editor of the newspaper in San Mateo, south of San Francisco, when the Niners won their fifth Super Bowl title. I loved the headline we came up with: Five Golden Rings.
About a year later, I moved to the Midwest before coming to Lubbock in 2006.
The Niners have never been one of my teams, but I continued to have a soft spot for them.
My negative feelings for the Cowboys are not as strong as they used to be … which has something to do with living with y'all.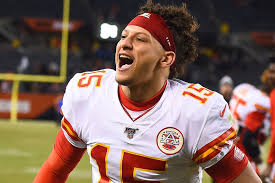 But my history of liking the Niners is easily eclipsed by our Mahomie, a nickname we've seen on t-shirts and even in State Farm commercials.
It's a no-brainer to root for Patrick and the Chiefs. He's the reigning NFL Most Valuable Player and in his first Super Bowl in only his third season after playing at Texas Tech.
He's also the first quarterback from a Texas college to start in the Super Bowl … which is hard to imagine.
That's good enough.
But there are so many more reasons to root for Patrick.
He has not forgotten his alma mater. There he was at the Final Four, cheering on the Texas Tech basketball team after he delivered a powerful pre-game speech to the Red Raiders before their semi-final win over Michigan State. "Pat Mahomes is big time," coach Chris Beard said back then about Mahomes' speech. "It's not fake, it's not fluff. He has not forgotten where he comes from." There he is on the big board at Jones AT&T Stadium psyching up the crowd before football games.
He has not forgotten Lubbock. Even though he does a number of national commercials, he still has time to do spots for a local car dealer. That's just cool.
He  values Lubbock. There are a number of posts from organizations this week on social media showing then-Red Raider Patrick visiting sick kids, visiting developmentally disabled kids. He wears a "Team Luke" bracelet every game in honor of Luke Siegel, the young Lubbock boy who suffered brain damage in a golf cart accident and has inspired many.
He's just a great guy. Patrick and his girlfriend were having dinner at a Kansas City restaurant and no one bothered them.  As he was leaving, Patrick thanked everyone and then picked up all their checks.
There's a meme going around social media saying in a world of Kaepernicks … be a Mahomes.
I was telling a friend about doing this column  and he shared with me a text from a friend of his about why his friend appreciates Patrick:
"He's humble, he carries himself in a mature manner for his age. While other players his same age (Baker Mayfield) are seeking the spotlight and trying to hard to get attention, he just lets his play speak for itself. Even when the spotlight shines on him it's always we, us, team, never I. He is on the biggest stage and still shows his support for Texas Tech whether it be attending the Final Four or buying Tech football season tickets for local kids. On the field you can see his leadership and ability to command his team. He operates with no fear. He doesn't envision a play not working he just seems to 'will it' to work. He is one of the most exciting players to watch in the NFL."
Well texted.
We're proud of Patrick because of the great person he is and we're  proud this place we live played a role in making him that person.
Hoping good guys do finish first.