In 1921, cars were parked bumper-to-bumper at one of the nation's first drive-in movie theaters in Comanche, Texas. Vehicle occupants were watching silent films.
That sort of turnout is the last thing theater owner Ryan Smith wants today when he re-opens his three-screen Stars & Stripes Drive-In.
Instead, he plans to enforce "social distancing" by everyone driving vehicles onto each screen's parking area.
Many recently quarantined moviegoers are ecstatic the Stars & Stripes again will be open on a nightly basis – even with new rules, guidelines and restrictions.
Some rules may take some getting used to. Not following them, however, might find visitors told to leave before the movie ends.
That is how seriously Smith expects everyone to take his guidelines.
The world has changed, thanks in large part to the coronavirus. Smith emphasized his priority is keeping guests and employees "safe" while participating in the drive-in experience.
Smith grew up in Lubbock with some family members in the movie exhibition business. He was expected to enroll in law school and pursue the security such an education often provides.
Instead, he quizzed family members – especially theater owner and grandfather R.A. "Skeet" Noret – for advice. And what he did instead was purchase a cotton farm. Then he invested in a modern, state-of-the-art, two-screen drive-in theater at 5101 Clovis Road. It opened on Aug. 21, 2003.
Smith did so knowing drive-in theaters had been on the decline for decades, having peaked in the United States in the 1950s and 1960s.
But his contemporary Stars & Stripes Drive-In, using radio sound and bright, digitally projected images, fairly exploded with popularity.
So much so that, not quite four years later, Smith added a third screen on the same site in April 2007.
(He later would expand his Stars & Stripes family franchise to New Braunfels.)
For more than 16 years, only winter weather closed the Stars & Stripes. But as Covid-19 began its invasion into West Texas, Lubbock Mayor Dan Pope insisted businesses close in the interest of safety. Movie theaters were told to shut their doors.
The Stars & Stripes closed on March 17.
"There were an awful lot of people who felt we never should have closed," Smith said. "They told me that a drive-in could operate safely. Some were pretty surprised after I spoke with them."
"I felt that the right thing for me to do would be close one day early, rather than one day too late."
He knew even if there were a way to keep people in or near their own cars, social distancing themselves from other moviegoers, there was no way to immediately solve safety problems associated with crowded restrooms.
The restroom problem had to be dealt with. It would bring about several changes.
For example, Smith has eliminated double features for the present time. Only one movie will be shown each night on each screen.
Opening Friday is the 2020 update of "The Invisible Man," more thriller than horror, on Screen 1. This film had opened in theaters right when screens became increasingly unavailable.
Screen 2 has "Trolls World Tour," the animated musical follow-up to 2016's "Trolls." The "Trolls" sequel earned more than $90 million when released as a VOD (video on demand) via Amazon Prime.
Opening Friday on Screen 3 is "I Still Believe," a Christian romantic musical inspired by recording artist Jeremy Camp and his wife, who was diagnosed with ovarian cancer before they married.
Smith hopes showing single features will reduce the usual flow of people headed for the restroom during intermission.
He also has closed the children's playground and green areas. Children no longer can play there.
Smith, 41, expects all children to remain in, or next to, their vehicles.
"I have never said something remotely like this before. But we are pleading with people to please 'go' (use the restroom) before they leave home or head for the drive-in," he said.
Both men's and women's restrooms are reserved for "emergency situations." Smith and his staff will limit the number of people who can be in the restroom at the same time. "Probably quarter capacity," he stated.
During this interview, the theater owner was unsure about specifically how many people would be allowed into each restroom.
"One of our people will be there to watch if someone leaves. When they do, we will need to wipe down any well-used locations before admitting the next person. … So I can foresee there being lines at the bathrooms," he said.
But Smith believes if people "go" before arrival, and then watch a single feature of average length, it will be easier for guests to depart without claiming a restroom "emergency."
While some will miss the traditional double-feature bargain, Smith emphasized his re-opening spotlights only new films.
The three films featured are, he said, first-run product. The ones shown in this photo are, obviously, from the past.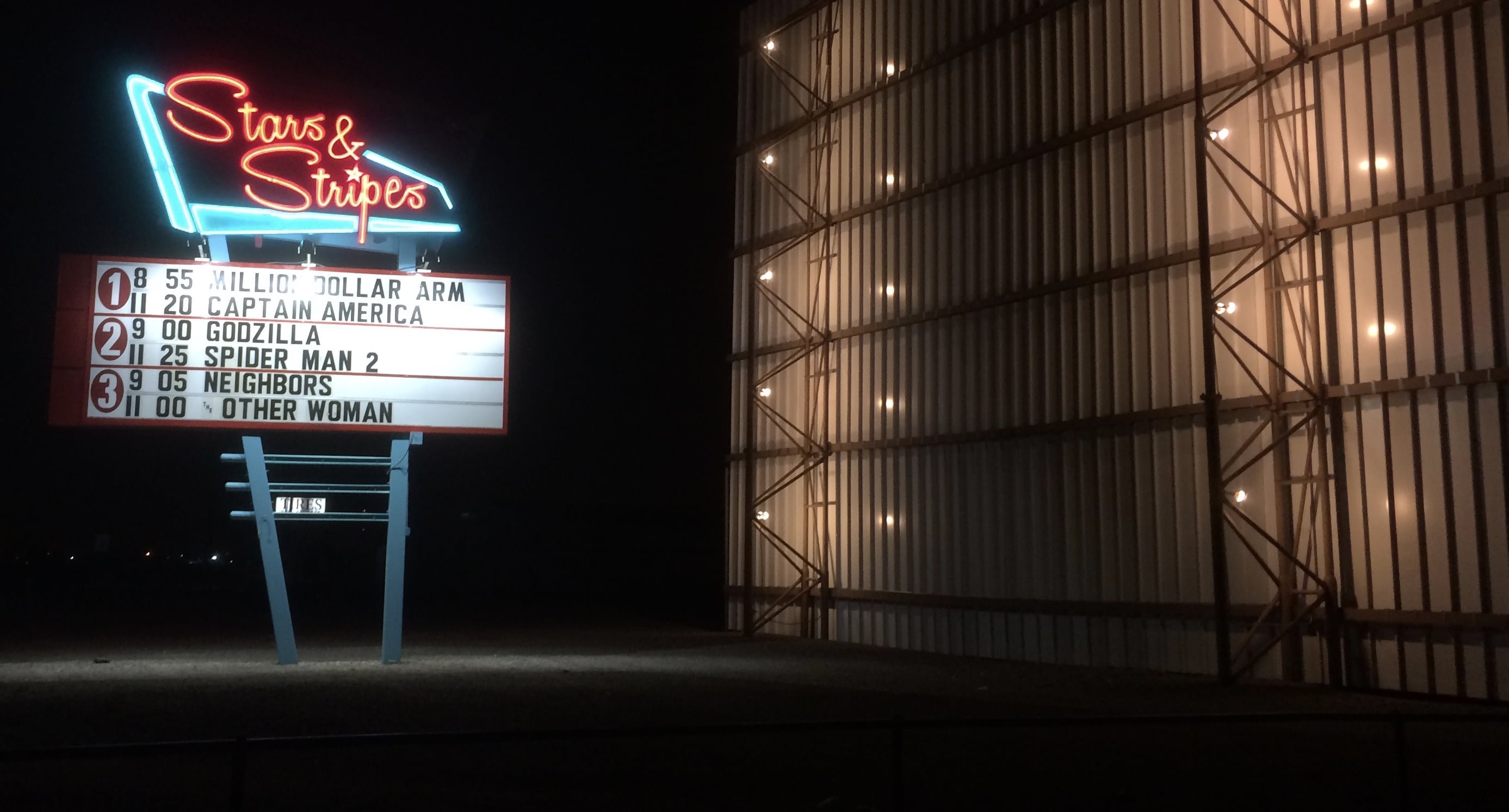 "These movies would be opening at indoor theaters, if the indoor venues were open. Some, like 'Trolls World Tour' and 'The Invisible Man' presently are offered to streaming services only as VOD (video on demand), where the rental price is $19.95."
Other films released recently as VOD, which Smith might eventually book, include "Emma," "Wendy" and Vin Diesel's "Bloodshot."
Smith pointed out three bigger films may open this summer as planned. Those on his release calendar include: May 15, "Scoob," the next animated Scooby Doo adventure; July 17, "Tenet," new science fiction from director Chris Nolan; and July 24, "Mulan," Disney's live-action remake.
"That's barring any changes," he added. Smith is aware Hollywood could still open one or all three on a VOD basis.
Major studios have stayed busy pushing back release dates for highly anticipated spring and summer movies into the fall and winter.
For example, the new James Bond film was to be a summer release; instead, it arrives closer to Christmas.
Smith enjoys showing what he terms "retro movies" from time to time at the drive-in, but said, "I never thought I might be doing this for the weeks leading into summer."
When Smith says retro, by the way, he is not referring to, say, "Casablanca" or the original "King Kong." He places more emphasis on lively movies from the '80s forward. He also likes the idea of showing "series."
Such bookings are not firm but, when asked for examples, Smith said, "Movies we might book include 'Goonies,' 'The Sandlot,' 'The Princess Bride' and maybe series like the Harry Potter movies or 'Back to the Future' movies. I think people would enjoy watching those at the drive-in."
First, however he has to ensure that his social distancing plans work.
His first step is to stop vehicles from parking next to each other.
Drivers must park in every other parking space, thus leaving an empty parking space on both sides of each vehicle.
"People can watch movies from outside their vehicle, but every chair and table must be kept within their vehicle's individual space. This is the only way we can maintain social distancing throughout each parking lot," he said.
The drive-in's traditional concession area, called the '50s Café, will be closed this weekend.
Visitors can bring their own snacks, foods and beverages to consume in their vehicle. Smith does request each group discard their trash in one of the drive-in's waste barrels.
"That helps make my staff safer because they will not be forced to touch so many unknown items while cleaning," said Smith.
Smith explained why his concessions building won't be open.
"We learned at the beginning of this week that we can show movies on Friday. We wanted to show movies, but there was not enough time to finish training our staff about cleaning procedures and the new rules," he said.
In the past, families often arrived early at the drive-in. "Now, there is no need to," Smith pointed out.
Plus, for the first time, moviegoers can purchase their tickets in advance.
"To help assure that the person selling tickets does not touch a guest – and because of our reduced capacity – we now recommend that people purchase their movie tickets in advance online. They can do that at the website driveinusa.com. Tickets are already on sale online for this weekend, and the weekdays next week," he said.
Tickets are $6 for those age 4 and older. The drive-in opens at 7:30 p.m. each movie begins at approximately 8:45 p.m.
Movies might sell out earlier, thanks to advance ticket sales. Tickets still can be purchased with cash or credit cards at the ticket booth, barring sellouts.
Meanwhile, Smith still believes, "Part of the true drive-in experience is being attracted by the smell of freshly-popped popcorn."
But that will not be available until perhaps Monday, at the earliest.
The hard fact is that all movie theaters – both indoor and outdoor – rely on concession sales for survival.
A healthy percentage of revenue from ticket sales is contracted to be paid to the studios that distributed the featured films.
When he finds his staff adequately trained, Smith plans to open the concession area first, to keep the line moving fast.
What Smith calls "Rockin' Eats" – basically cooked items (hamburgers, hot dogs, etc.) that take longer to prepare – will return later.
But before those cooked snacks return, Smith plans to develop a new app that allows visitors to make concession orders from their cars.
"I have always wanted to develop a carhop service at the drive-in, but we had no reason to invest in the necessary software," said the theater owner. "Now we do."
That, however, will not happen in the coming week.
Still, when the '50s Café concession area opens next week, new rules will be enforced.
They include:
No more than two people from each vehicle can enter the concessions area at one time. Smith said this eliminates slower, longer lines.
Children have to stay with their vehicle at all times. This assures faster concession lines, Smith said.
Everyone ordering concessions must be wearing a face mask before entering the '50s Café.
Take note that Lubbock's indoor multiplexes will not re-open this weekend just because government said movie theaters can reopen.
Executives with Alamo Drafthouse Theaters' home office responded as follows:
"We will not be opening our Texas theaters this weekend. Opening safely is a very complex project that involves countless new procedures and equipment, all of which requires extensive training. This is something we cannot, and will not, do casually or quickly."
I assume management at Lubbock's two Cinemark multiplexes, and the Premiere multiplex and Imax, will not open unless positive they can do so safely.
Smith stated in a 2018 Lubbock Avalanche-Journal interview, "I really don't think I even had any rules in mind when the drive-in opened. I knew I wanted the Stars & Stripes to be a place where people could enjoy a Family Night, and couples could turn to us for a special Date Night."
Times have changed. Now he has rules.
Smith, and staff, will be keeping a close eye on visitors this weekend.
Smith said he always has been "big on nostalgia," but knows he cannot make his re-opening work if people complain about lines at the bathroom, or refuse to adhere to proper social distancing between vehicles.
Some of his rules require only logic.
"If you are sick, running a fever or have been exposed to Covid-19, stay home," he said.
But in the interest of safety, the drive-in owner is quite prepared to send you home.
"Each rule must be followed," he said.
If not, that person (and his entourage) will be told to leave the drive-in, and don't even think about requesting a refund.
Smith is the first to bring movies back to a big screen, be it under the night sky.
It will take everyone familiarizing themselves with new rules, and working together, to keep the Stars & Stripes Drive-In the fun experience it has been for so many years.