Heard about Southwest Airlines' massive computer outage grounding flights across the country a few weeks ago? Here's what it was like in the eye of that storm.
I was home packing for a flight to Burbank, California, when a text popped on my phone from Southwest Airlines: "SWA Flight 2294 from LAS is cancelled," telling me to go to Southwest's website and rebook.
But what about my flight to Las Vegas from Lubbock?
Then came the text canceling that flight, too.
Couldn't get Southwest on the phone and trying to rebook on the computer wasn't working.
I joked with the New Mexican … my wife … the Russians had hacked the airline.
Turns out, I wasn't completely wrong. But we didn't know that around 1 p.m. June 15 as we were finishing packing for a 3:25 p.m. flight.
Figured we'd finish packing, go to Lubbock Preston Smith  International Airport and see if we could sort it out from there. If not, we'd be packed and start driving west. Needed to be in L.A. no later than 4 p.m. the next day. Had Dodger-Phillies tickets and taking my grandson to his second Dodger game. To quote the Blues Brothers … "we're on a mission from God."
If we were going to drive, I figured we'd hit one of my favorite places for dinner in Albuquerque … where the New Mexican lived before moving to Lubbock to live in wedded bliss on Greenberg Acre, south of town.
She wasn't sure we'd have time … I figured I had five hours of driving to convince her.
Got to the airport and, not surprising, there was a long line at the Southwest counter. While in line we got another text saying we'd been rebooked on another flight to Orange County, California. At the counter, a very nice woman guided us through the computer-sparked mess. They had a plane coming to Lubbock to take a bunch of us directly to Orange County … at least an hour's drive from Burbank, where we had a rental car waiting.
Then we'd fly to Oakland in the Bay Area and a long way from Burbank before taking another flight back to Burbank and pick up our rental maybe an hour later than the original plan.
At first, I thought we'd find ground transportation in Orange County and avoid two more flights but it probably made more sense just to go up to Oakland and back south again.
Then the nice woman behind the counter said: "Wait … you're going to Oakland. She's going to Phoenix," the woman said, pointing to the New Mexican.
Huh?
Because one ticket was bought with points and one with cash, the system booked us on separate flights and both were full.
By now, my capacity for dealing with shifting logistics was seriously taxed. And throw in constant texts to California family members telling them we hope we'd be seeing them.
The woman changed things so we just went to Orange County, home of Mickey Mouse, who'd appropriately become our spirit character for the day. Wait, maybe it should have been Goofy.
We'd take our chances with ground transportation in Southern California during rush hour.
I must like a challenge.
After landing at John Wayne Airport in Orange County, we got our bags and went to the car rental counter.
First option, would they let us pick up the car in Orange County and we'd return it in Burbank? (While we were still waiting for the flight to leave Lubbock, the New Mexican called and was told we could pick up the car in Orange County for double the original price. We passed.) At the counter in Orange County the guy said his system doesn't allow that and they don't have a lot of cars available. The sign outside his counter area said they had lots of cars.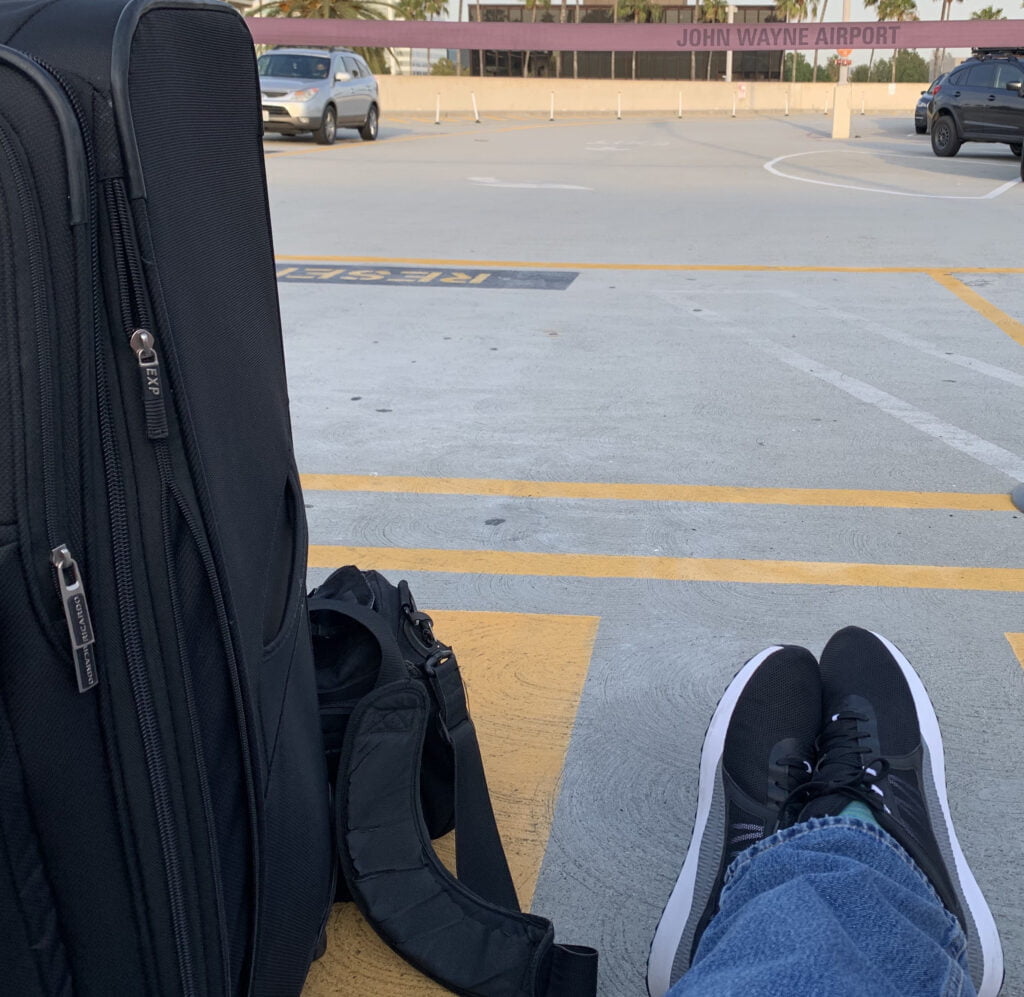 After telling him I'd never rent from his company again we went to option two. Uber. (Photo above, waiting for Uber.) Mohammad showed up in a Honda a little while later and we headed northwest on Interstate 5. Amazingly, we hit little traffic and got to our hotel in Burbank.
And yes, it cost about $200.
From there, we took a hotel shuttle to the Burbank airport to finally get our rental car from the company I'll never rent from again. Amazingly, we picked up our car almost to the minute we were supposed to if the original flights had not been canceled.
The only problem was we were going to eat dinner in Las Vegas waiting for the flight to Burbank. Now it was 11 p.m. Lubbock time and we hadn't eaten.
Tried to grab some fast food on the way to the hotel, but most places were closed. Then we found Kabab House a few blocks from the hotel. It was now around 10 p.m. California time, but the Kabob House was open to 3 a.m. We got a couple of meals to go and ate them while watching television in our room. Very tasty.
Had a nice time with family … my grandson spent most of the Dodger game playing on the jungle gym beyond the Right Field Pavilion.
When I got back to Lubbock on flights that were not canceled, I called Southwest to see if they'd reimburse me for the Uber trip or give me points or maybe some more drink coupons for when they serve booze in the sky again. I was nicely told they were not planning anything like that after the computer disaster. In all fairness, they did have a plan to get us to Burbank and I declined. The New Mexican and I didn't want to fly to separate cities. Was worried one of us would get stranded,
Unlike the rental car company, I still like Southwest Airlines and will fly them again, but they really tested my logistical skills.
But I'm OK with the knowledge that Kabob House is there for me until 3 a.m. whenever I'm back in L.A. Maybe they can open a Lubbock location.
Note: A few hours after this piece was published, I got an email from Southwest saying they're sending me a $250 voucher toward a future Southwest flight. It's appreciated and the kind of customer service I've seen over the years from the airline and one of the reasons I fly Southwest when I can. The timing and amount are interesting, though. I checked the Internet to see if there was any news about the airline doing this for everyone who flew that day and couldn't find anything. Then I called Southwest to see if I could learn anything and the wait time on the phone was 58 minutes.  Interesting.