As I sit here Monday morning, it's 2 degrees outside … wondering if it'll get colder inside if we get hit with the rolling blackouts going across Texas because of the record cold weather affecting the state's power grid.
After that, I'm waiting for the locust and plague.
Wait … we've been dealing with our 21st Century version of the plague for almost a year now.
If I see locusts, I'm loading a bazooka with Raid.
It's been an interesting few days, starting last Wednesday.
Donna and I got our second dose of the Moderna vaccine at the Lubbock Civic Center. As I wrote back on January 14, the process was just as efficient as our first visit.
We ran a couple of errands and went home to  chill, so to speak.
There was a days-long cold snap coming, we were ready if we had a bad reaction to the second shot and had a lot of leftover grilled steak and chicken.
Outside of going out to dinner Saturday night, I had no reason to leave Greenberg Acre (get it?), south of Woodrow Road, until it warmed up.
I was prepared.
Thursday was fairly uneventful. Outside of a sore left arm, I felt fine. Donna had a low-grade fever and felt "fluish." I got work done and went outside to take pictures of the ice that had encased our trees and the frost on the pines on the west side of our acre. It was beautiful.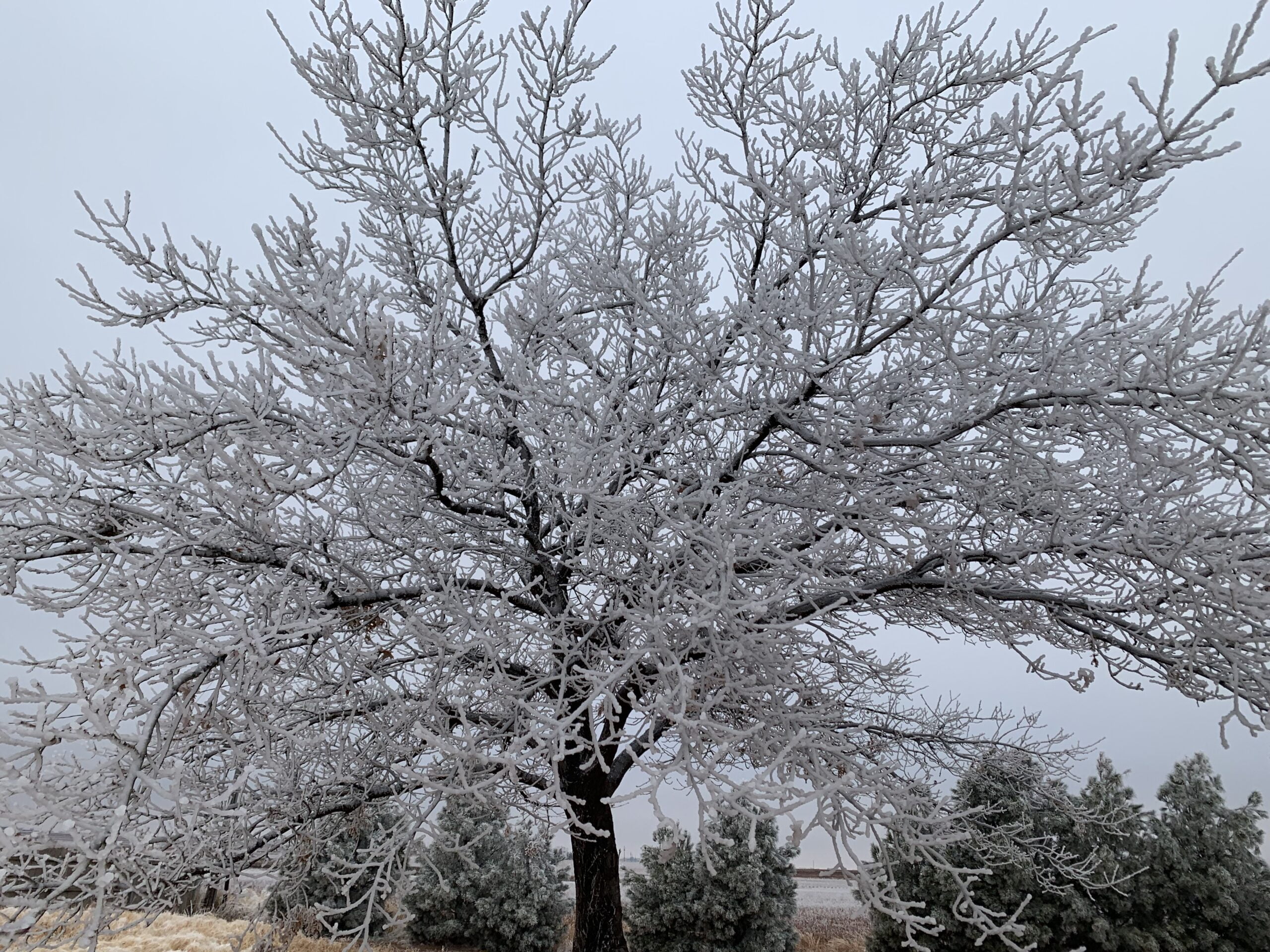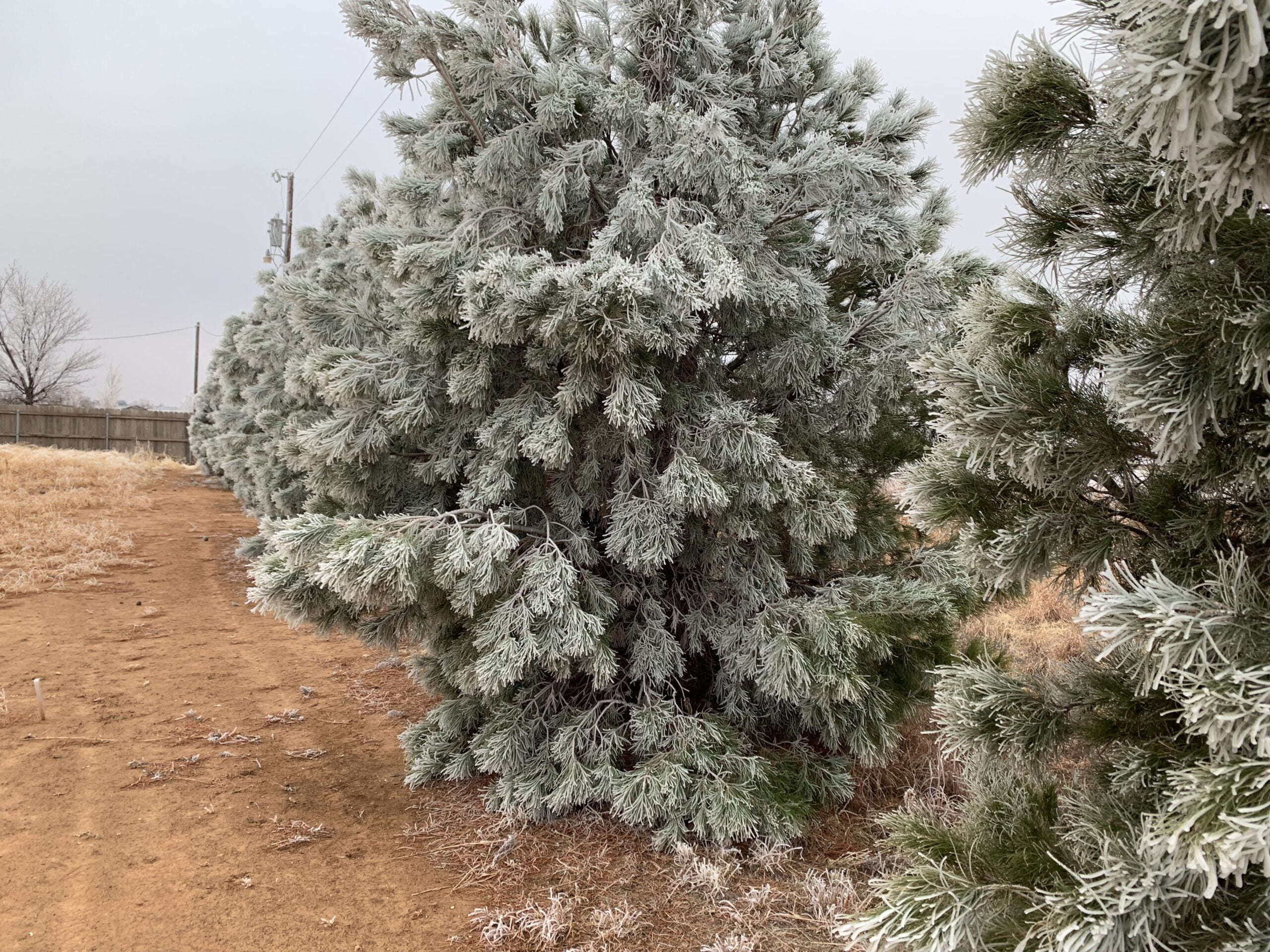 The real adventure started Friday.
No water.
Yes, we left cabinets and faucets open, we have little hats on the outside spigots … but no water.
We called a pump service and they said they'd come as soon as they could. Meanwhile, we found about a dozen gallons of water at the local Dollar General so we could flush toilets, brush teeth, make coffee, etc.
The pump service came out, got the water running but told us the tank in our pump house may be on life support. By now it was Friday afternoon and they didn't have enough time to replace the tank. He said to call if we had more problems.
We wondered, though, if the real problem  was not having a heat lamp in the pump house. So Donna started calling around to hardware stores and home improvement places. They were all out. She finally found a poultry coop kit that included a heat  lamp and feeders. She ran out and got it … then we realized there was no place to plug it in inside the pump house.
If  by now you're thinking I'm clueless about all this stuff, you're right. I didn't grow up on a ranch and my home repair knowledge and skill set are laughable. We went looking for extension cords we thought we had and couldn't find them. We ran out again to buy a 100-foot extension cord, plugged it into an outside outlet and the heat lamp was bright and warming the inside of our not-chicken coop.
So on a day we expected to not leave the house, we made three trips.
After dinner we were about to do a load of dishes in the dishwasher,  but decided to wait until after breakfast dishes on Saturday,
Bad idea.
Saturday morning no water. Our tank had crossed the rainbow bridge, services pending. The heating lamp wasn't the answer. But it was working. I asked Donna if we should get some chickens and put them inside the pump house. She gave me The Look.
The pump guys couldn't come out over the weekend because of weather. We were up a frozen creek and I felt like smacking myself with a paddle.
By now, though, we were adept at using our gallons of water to get by. We decided to go out to dinner Saturday for a change of pace. I took a "bird bath." It was not anywhere as nice as a hot shower, but it worked. Then Donna mentioned I could have put the washcloth in the microwave. Next time.
After dinner we filled up many of the empty water jugs at the water station outside our United Supermarket at 130th and Indiana. The temperature was in the high teens, but with the wind it felt like minus-20 (yes, a massive exaggeration … but it was damn cold).
Quick side story: I grew up in Los Angeles, but for a year-and-a-half, I was the editor of the newspaper in Minot, North Dakota. One of the two winters I lived there, the high never got above zero for two weeks. I used to think once it gets down to zero, how big of a difference is there between zero and minus-20? My face found out there's a big difference.
Sunday came the snow. Never left the house. Binge watched "The Crown" on Netflix. Highly recommended. I've never understood American fascination with the royal family, but it's well done and interesting.
Donna went outside to tend to her bird feeders and scooped up some snow. She thought she'd bring it inside, it would melt and we could use it to flush toilets and wash dishes (see below)… not at the same time with the same water. I started calling her Pioneer Woman.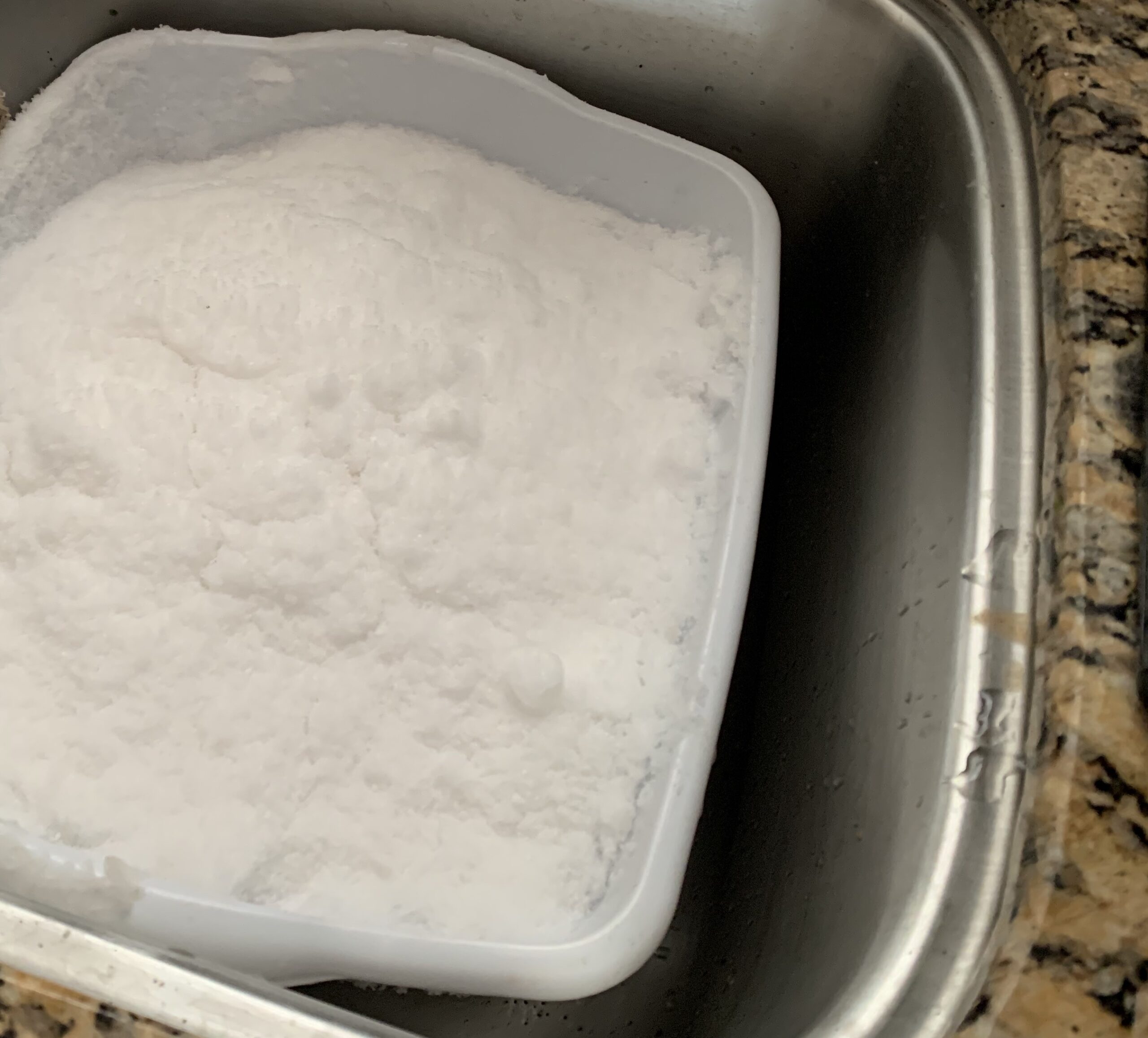 Monday morning the pump service said they were waiting to decide if they could even go out and may not make it out until Tuesday. We went back to United to fill up the jugs. Only the water machines were not working. We got the last gallon jugs they had.
Meanwhile, Donna found out a five-gallon bucket of snow melts into not enough to flush the toilet. She wondered if it would make more water if she was wearing a pioneer dress.
Sunday is laundry day for me. I like having all my clothes ready for the week. Not this time. I'm just hoping by the time we do get water again, a rolling blackout doesn't hit when I try and turn on the washing machine.
Is all of this a hardship?
Nah … being a woman in Afghanistan is hardship. Living in many parts of the world where they don't have what we have is a hardship.
But if it goes on much longer, I may check in at a hotel.