A few weeks ago on Lubbock Lights, questions were asked about the Lubbock County Expo Center project, which would appreciate your yes vote on Prop. A in the upcoming election.
Early voting begins Oct. 22 and Election Day is Nov. 6.
Before I answer those questions and others we've heard, please let me tell you the three main reasons I believe in this project and honored to chair this effort:
The vote of May 5 allowing the city of Lubbock to give the Coliseum to Texas Tech created a need.
We're doing this without any of your property tax dollars.
Most important is the economic impact of this facility is infinite. People will visit the Expo Center for many events. They will stay in motels here, shop here, eat here and buy gas here. The first year economic impact of the Brazos County Expo Center was $1 million and $10 million by the tenth year.
Now for answers to the questions posed by the Sandstorm Scholar – Scott Mann – and answers to other questions you might have before your cast your vote.
Where will it be?
On a large piece of land northeast of North Loop 289 and University Avenue – or more specifically, northeast of the Stripes at the northeast corner of the access road and University Avenue.
How much will it cost?
Not more than $50 million to be funded by a 2 percent increase in the Hotel Occupancy Tax – know as the HOT tax – and an increase in the tax on car rentals not to exceed 5 percent. The $50 million is based on three estimates from builders to cover an arena, exhibit hall and warm-up areas. The annual cost is $2.6 million over 30 years and our estimates of the revenue from those taxes is $2.8 million a year.
What about other costs and will eventually taxpayers have to support this project?
We've put together a $10 million endowment which will act as a financial firewall. Our committee pledged from our first day we would put into place a non-profit board of directors to guarantee this would always be a third-party endeavor and county government would not be responsible for ongoing cost and management. We just needed county government's help to let voters decide.
Who is in charge?
Here's the rest of our Steering Committee:
Berhl Robertson, former LISD superintendent, retired
Rob Allison, LEPAA
Tim Collins, CHR. LEPAA & LEDA
Bret Lamkin, Bledsoe Insurance, past president LCJLSA
Dr. Janet Mitchell
Mark Putman, ABC Rodeo, AMBUCS
Greg Schilling, Back to Nature, LCJLSA
Ray Short, ABC Rodeo, AMBUCS
John Weathers, Cooper FFA, retired
Jay Winter, Wintex Farms
Stanley Young, Lubbock County Extension, retired
We're wrapping up who will be on our non-profit board of directors who will oversee this.
That addresses the questions Scott asked – but there are many others and in those answers, I'll outline more details to further answer Scott's questions.
Do we really need something like this just for the ABC Rodeo?
Great question. The ABC Rodeo was one of the only events still using the Coliseum and not because the building was perfect. It was not close to being the right facility, but it was all that was available. The Coliseum was never built for rodeos. The floor was too small – it was built for basketball. I know some people have fond memories of the Coliseum. But its time has come and gone. My dad played basketball in the New Deal High School gym in the late 1940s. That gym has been replaced by a more modern, larger facility to meet current needs. The 6,000-seat Expo Center will attract the ABC Rodeo, other "dirt floor" and "solid floor" events. It will attract concerts too small for United Supermarkets Arena or too big for the Civic Center or the new Buddy Holly Hall. It will be a great place for monster tractor events, motor cross, gymnastics, wrestling, hockey, livestock judging and equine events.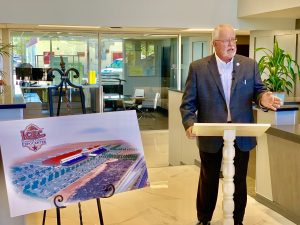 Why such a rush to get this passed?
Looking at some of the comments on the Lubbock Lights Facebook page, there are people who feel like this is a rush job because we have not had all the answers. I hope this column addresses most, if not all concerns. But we felt urgency following the May 5 vote to abandon the Coliseum because many people wanted to know what would replace it. Also, a lot of our supporters have wanted this type of facility long before May 5.
Why did you pick the site you did?
We looked at many areas in Lubbock County. This was our preferred location because it's close to Texas Tech and to hotels and motels off the Loop and I-27. Also, it was good access for 6,000 people and 3,000 cars to get in and out for events. We also needed enough land for now and in the future. The Brazos County Expo Center started with 150 available acres. They are in phase four now and using 100 of those acres. This site makes sense now and in the future. Stanley Young and Jay Winter have seen facilities like these around the United States and the world. They know that's needed and have helped us form our plans.
Do you own the land?
Not yet – the agreements are close to being final.
That brings up a point. We're giving you a lot of answers today, but we don't have an answer to every detail yet until after the election for a logical reason. There are some things we could know further but would have to spend a decent amount of money before we know if voters will say yes. What we've done is put a business plan in place that gives us an excellent chance to be successful. But we're walking before running.
It's still a tax!
Yes it is. But consider these points.
Unless you spend a night in a Lubbock motel or rent a car here, it's a tax you don't pay.
But you pay it every time you travel. For those of you who travel, you're paying the tax and benefitting another community.
If Prop. A passed, our already-low HOT tax rate will go from 13 percent to 15 percent. That's similar to Corpus Christi, Austin, Midland, Odessa and Abilene and still lower that many other Texas cities. Amarillo's jumps to 17 percent the beginning of next year.
Again, we're not asking to do this through property taxes. But similar facilities in other Texas counties have been built through property taxes or a mix of property and HOT taxes. We're not doing that!
What if there's a major economic downturn and taxpayers end up being responsible for the facility?
Some people want absolutes and ask about "what ifs." We've put a business plan in place with the endowment as a safety net that gives us the best opportunity to be successful and make Lubbock better.
Let me sum this up.
My background is in agriculture. I grew up showing pigs in Lubbock County when I was 9 years old. I was an assistant county extension agent and a county extension agent. I have a degree in animal science and planned to become a veterinarian. But I met a beautiful girl in college and ended up in banking. My children and grandchildren are involved in 4H and FFA. I'm in favor of anything involving kids, that can educate people about agriculture, plus benefit and improve Lubbock.
Remember – not everyone thought United Supermarkets Arena was a good idea initially but I don't know anyone who thinks it should go away. The McDougals were criticized for their North Overton area plans – would you like to go back to the way it was?
We have another chance to make a valuable improvement to our community. I hope this answers your questions and you will vote yes on Prop. A.