American conservative beliefs include individual liberty — within the bounds of conservative values — as the fundamental trait of democracy. American political conservatives believe in limiting government in size and scope, and in a balance between federal government and states' rights. These core values are what drive America's Republican Party (GOP).
Although my active political involvement with the GOP, especially with the Lubbock County Republican party began a little over half-a-decade ago, my political interest and curiosity started developing many years before. As an immigrant to the United States of America – the land of opportunities – coming from the eastern part of the world it's assumed one is a Democrat. At least, this is what they say.
Since America's Democrat party focuses on racial equality, as a man of color, initially, I was under the impression I would automatically be a Democrat. Well, God planted me in West Texas for a reason.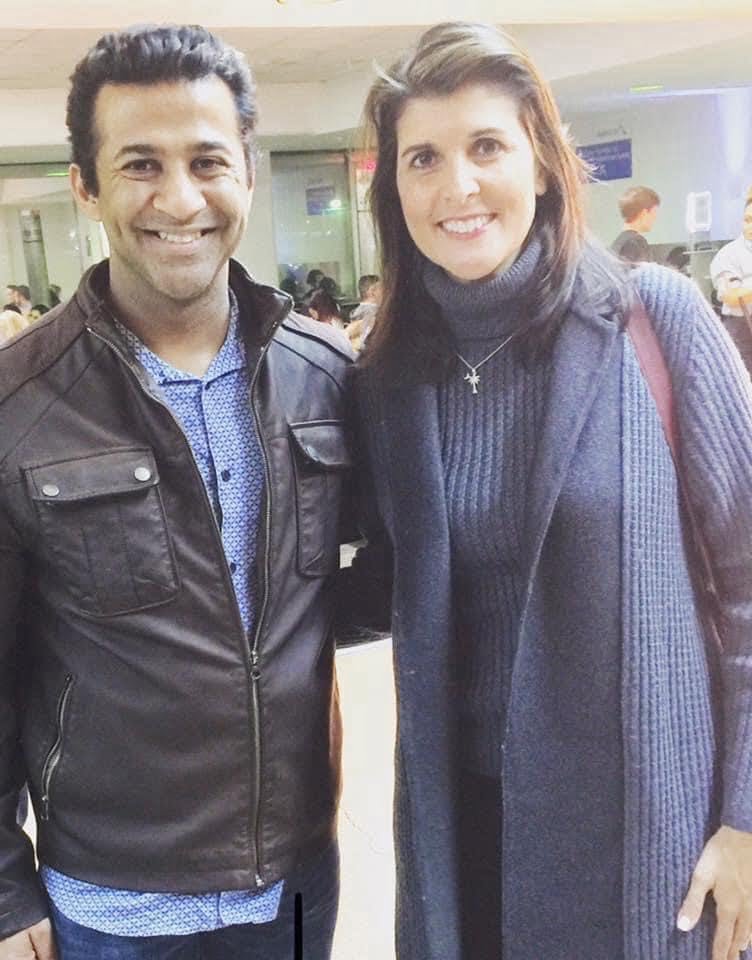 I started getting interested in our national political scenario when I saw Barack Obama becoming a U.S. Senator. Former Secretary of State John Kerry was the Democrat presidential candidate that election year. Again, as then-Senator Obama being a "man of color," I thought I could relate to him. His speech at the Democratic National Convention was quite inspiring. For the next few years, I would follow what this senator had to say. Soon enough, he was the U.S. Presidential candidate and won. It was a thrilling moment to see the first African-American become president of the greatest country of the world.
While my national politics' following was taking place in fits and starts, simultaneously, I was being exposed to our traditional West Texas values, its great people, local and state politics, and so on.
Around that time, I read Donald Trump's book, "The Art of The Deal." It was impressive. Trump had written great things about my native India which was quite delightful. In his book, he had mentioned about his success routine (he sleeps at 1 a.m. and wakes up at 5 a.m. everyday), does not drink alcohol or caffeine, does not smoke. It was motivating. He mentioned his favorite boxer is Mike Tyson, who happens to be my favorite boxer too.
So, I kind of started "following" Trump. Soon, we had his show called "The Apprentice." I started watching as I already had an admiration for this man after reading his book. In one of his "The Apprentice" episodes he invited the famous golfer Vijay Singh. Now, I'm an avid golfer and Vijay Singh happens to be my favorite golfer!
In 2008, when Barack Obama became our president, I thought this would be good for all minorities and he will help facilitate changing the world.
I was working in healthcare administration at that time and the Affordable Care Act was passed. This was a blunder! Numerous primary care physicians went out-of-network and therefore, out of practice due to the act and that affected our entire healthcare system. As a healthcare administrator, it was a challenging time for our organization too.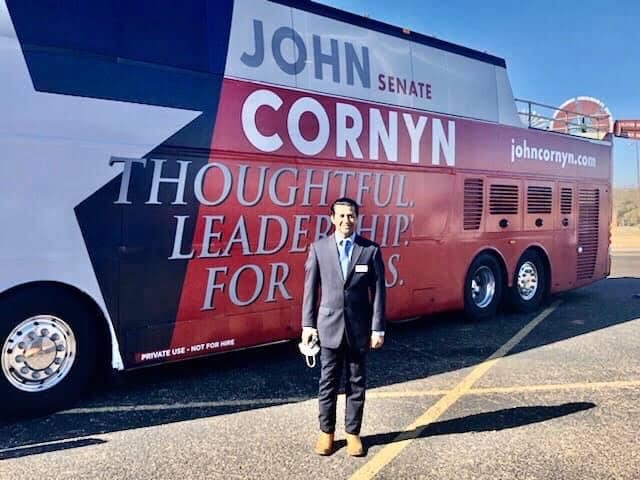 Shortly thereafter, President Obama started sending forces to the Middle East countries and bombing millions of innocent people in that region. This was heartbreaking! I have several friends in West Texas, most of them are physicians, who are from those countries and they could not believe this was being done by a Democrat U.S. President. It was shocking! The civil wars started in those regions are still going on. Due to these factors my support for President Obama faded and then disappeared completely.
From 2011 onward, I started taking an active interest in our conservative-Republican politics. I realized Democrats were fooling their own people. We come to this great country for its liberty, freedom, free-enterprise model, capitalistic structure and limited government control. Nonetheless, the Democrat ideology was completely opposite of these values. It was a time of realization for me and that's when my allegiance transitioned toward the GOP.
Working in higher education administration from 2014-2019 gave me an opportunity to connect with the Lubbock Chamber of Commerce and Workforce Solutions of the South Plains and my professional network grew immensely.
This also helped me connect with our local, state, and national conservative leaders. It was always inspiring visiting with them as our beliefs and political ideologies matched.
In 2015, I learned that my "guy" Donald Trump whom I'd been following since 2006 (as aforementioned), was a Republican nominee for our highest office. I was amazed! From Day 1, I had a strong feeling he would be the GOP candidate. During those debates, as we all know, the candidates stood next to each other according to their height. Trump was right there in the middle. Whenever I saw those debates in my heart I would always strongly feel this was a way of God telling us Trump is going to be our president as he was front and center. Donald Trump was sworn in as our 45th president on January 20th, 2017. My happiness, like millions of my fellow Americans,  knew no bounds that day. We had my favorite candidate from my party as the leader of the First World.
That year on, I got more engaged with the GOP – in several voluntary projects, attended seminars, conferences, and summits headed by our GOP leaders. The last two years it was a privilege to campaign for President Trump, Congressman Jodey Arrington, Senator John Cornyn, Representative Charles Perry, Representative Dustin Burrows, Representative John Frullo and a number of other key conservative GOP leaders.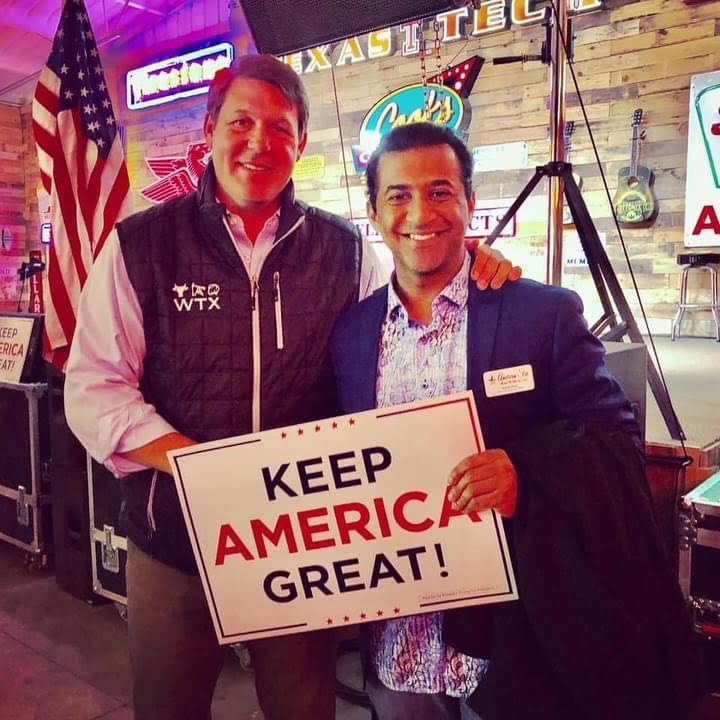 Meeting Congressman Jodey Arrington in 2016 was transformational . His humble approach and friendliness has encouraged me to follow him and get more involved. In fact, there's probably no event of his (including telethons) since 2016 in Lubbock I haven't attended. It was an honor to campaign for his re-election last year too. He continues to support  and  mentor me. Plus, I won't be surprised that in 2024, if Trump runs for the president, Jodey is our vice president. Nor would I be surprised if one day he was our president.
I guess this passion to fight for our conservative beliefs and to continue to serve got noticed and last year God blessed me by getting me elected as the chairman for Precinct-27 (Lubbock County Republican Party) and a national delegate for the Congressional District-19 (Republican National Convention). Thanks to Cole Shooter, chairman of the Lubbock County Republican Party for his encouragement and leadership.
My transformational journey to being a conservative and then, being an active part of the conservative GOP has been gradual. It comes from some deep soul searching and from knowing and being friends with thousands of fellow conservatives over the past several years who have helped shape my core beliefs and values.
I hope over the next couple of years this deep-rooted metamorphosis takes place among numerous other Americans (who have been distracted by liberalism and the mainstream media) so they are able to realize what our great nation was founded upon and that's the track it needs to stay on.
This beacon of liberty stands for freedom, rule of law, limited government, democracy, justice, free-enterprise, abundant opportunities and the spirit of limitlessness – not for socialism.