I love The Shack barbecue on north Frankford.
And I'm not alone.
I was recently walking out of The Shack with a to-go order and there was a young woman in the parking lot, putting her food in her vehicle.
She looked at me, holding a bag of rub she'd gotten.
"Look what I got!" she said with some excitement.
I found out she was from Austin and going through town on the way to visit friends – Santa Fe, if I remember right.
She raved about The Shack.
From Austin, eh?
"What about Franklin barbecue?" I asked, mentioning the famous place off I-35 in the liberal bastion of Texas.
In her opinion, she said, Franklin was overrated.
"These are the best ribs," she said about The Shack.
Kyle and Kelly Farris (see above) have had the 'cue going for five years on north Frankford.
They say the best recognition is happy customers, but I've been disappointed The Shack hasn't gotten more love from Texas Monthly.
The magazine announces the 50 best barbecue places in the state every four years and, in its last installment a few years ago, Wolfforth's Evie Mae's was No. 9 – foreshadowing the growth of quality barbecue on the South Plains.
In the magazine's recent 25 best new barbecue places, Slaton's Pitforks and Smokerings and Rejino in Olton were mentioned.
I realize I'm in a minority, but I prefer The Shack to Evie Mae's.
My Lubbock Lights partner Scott Mann prefers Evie Mae's.
And what Arnis and Mallory Robbins  have done with Evie Mae's is awesome. Hundreds of satisfied people waiting in line.
I just like The Shack. And Evie Mae's burnt ends are incredible … plus, it's just fun to type burnt ends.
Texas barbecue is like politics – we all have our opinions.
So I sat down recently with Kyle and Kelly to get their story … and they want people to understand why they sometimes run out of food.
They were both in the restaurant business but longed to open their own place.
The couple were undecided about a genre but did Sunday barbecue for friends. First it was a few people, but grew and people loved the food.
"The market was lacking a good, homemade local barbecue restaurant," said Kyle.
Kyle was general manager of Jack and Diane's restaurant and bar on north Frankford and thought about leasing it for his restaurant.
He watched a lot of Food Network and "Pitmasters."
"Barbecue was not the only thing I like to cook, but I felt Lubbock needed it and we were good at it," said Kyle.
Then he was in a motorcycle accident, which delayed plans.
Finally, they started in March of 2014 serving barbecue sandwiches and chips.
By the end of the first year, they were offering plates and more meat options. They eventually took over the whole building.
They survived – and grew – on word of mouth.
"If the food was good, we'd be all right," said Kyle.
Kyle thinks the lack of recognition from Texas Monthly may be because when Daniel Vaughn of the magazine came out to visit they were using a rotisserie smoker and not an offset pit – they were in the process of building one.
Kyle admits the lack of recognition is frustrating, but "it's not the end of the world. It would be nice, but we're not going to change anything to aim for that. If it happens, fine. If not, we're here for our customers," he said.
Kelly added: "It is frustrating but we don't work for that goal. We did this on a hope and prayer and it took off. We can't force them to write us up. When they wrote up Evie Mae's it exploded."
Kyle and Kelly's business has been successful and they know competition fuels the entire barbecue market.
"People like to compare," said Kelly.
And it's friendly competition.
A grease fire destroyed their pit this summer and they posted online they were closed.
Arnis Robbins loaned the Farrises a 1,000-gallon pit. They got another pit from the person who supplies their wood and were able to function for a few weeks until the new pit was ready.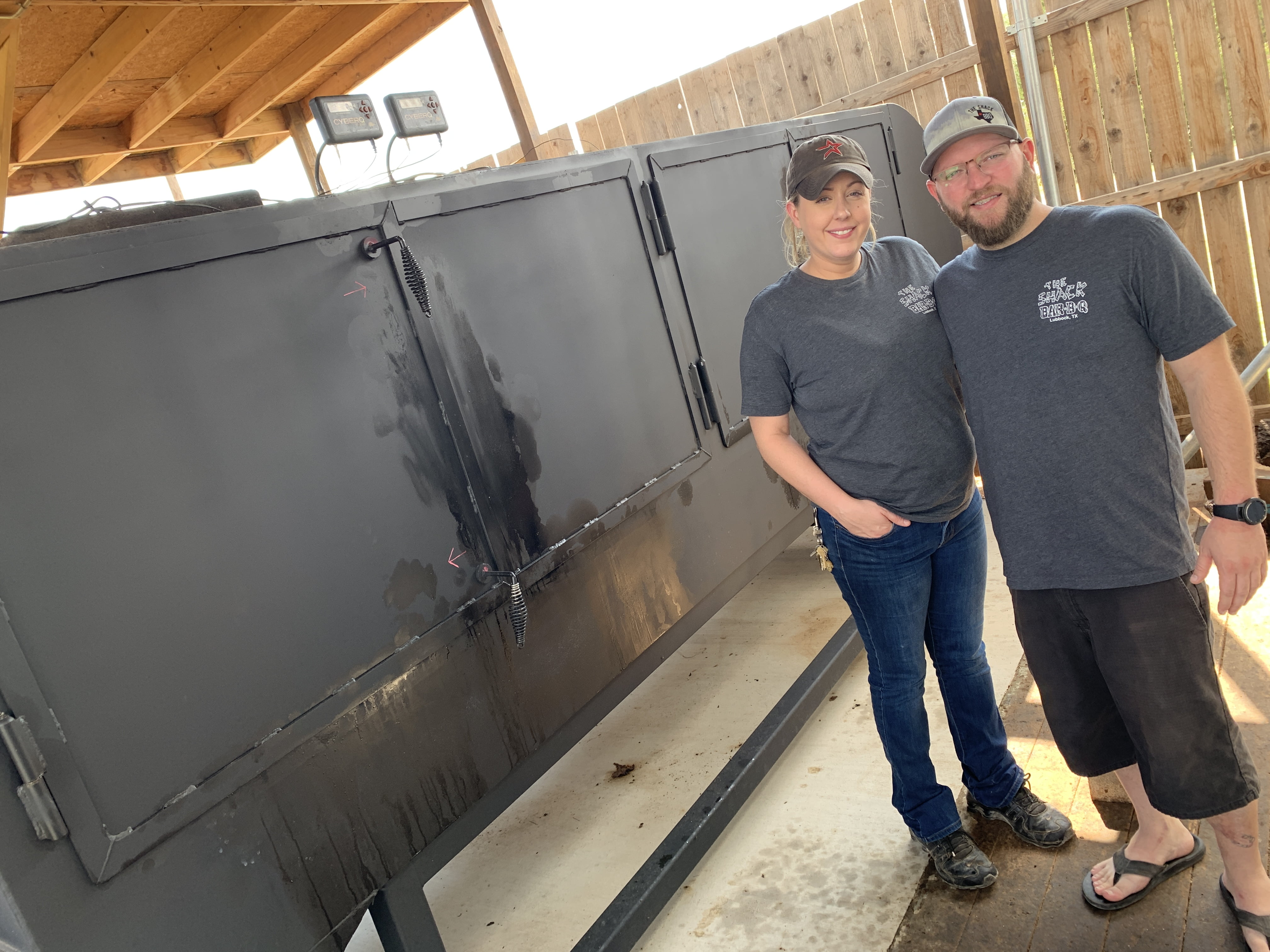 The new smoker (seen above) is 17-feet long, double-sided, reverse flow and serves as two smokers in one. I have no idea what that means, but what comes out of it is delicious.
Texas barbecue developed further when  'cue joints started making homemade and varied sides and  started offering full meals, not just meats.
"Food in general has turned a different way. It's more popular to cook at home and learn and do cool things. So when you go to restaurants you want a great meal. Not necessarily expensive, but made with skills and creativity. The food culture has grown tremendously," said Kyle.
Kelly said: "We work really hard every day to scratch-make everything."
Cooking the meat can take as long as 16 hours and they also make the rub, the sides and sauces.
"We may run out of food, but it was cooked for you that day," said Kelly.
And that's something people still don't completely understand.
"We're still teaching people what running out means," said Kelly.
They get angry letters on the front door and messages saying "how can you run a business this way?"
"Then you tell them how much you cook each day. On a good week we do 20-25 briskets a day. One graduation day we did 50 briskets and still ran out at 3 p.m." said Kyle.
The couple wants the food to be fresh and that means they'll run out – but we're all becoming aware that's the way the best barbecue places operate.
And one of the best is on north Frankford – here's hoping Texas Monthly figures that out before their next top 50.