On June 11th, 2019 the City Council of Waskom, Texas became the first American city to pass an ordinance outlawing abortion within their city limits. A dozen days  later, an article was written by Ann Hill for Lubbock Lights. That article was entitled, "Lubbock should follow Waskom, Texas and make city Sanctuary for Unborn."
In photo above: Members of the leadership of Raiders Defending Life pose for a picture with Mark Lee Dickson from Right To Life of East Texas and Jim Baxa from West Texas For Life after a meeting at P.F. Chang's in Lubbock.
In this article, Hill gave several reasons why Lubbock should follow in the footsteps of Waskom, Texas and make Lubbock a Sanctuary City for the Unborn. In the last paragraph of her article Hill argued, "Lubbock. Texas, also does not have any overtly operating abortion clinics. The last one succumbed with the law that the clinic's doctor must have admitting privileges at a hospital in case of emergencies. Lubbock should also be a sanctuary city. We have the resources to help women choose life. We have excellent healthcare, counseling, social agencies, adoption agencies, churches and caring people. How about it, city council? Lubbock is a great place to live."
What Ann Hill wrote then is true today. Right now Lubbock does NOT have any abortion clinics. The only thing that has changed since Hill wrote this article is that NOW we know Planned Parenthood is planning on returning to Lubbock with a facility opening up in Lubbock before the end of the year.
This news has sent shockwaves throughout the city of Lubbock.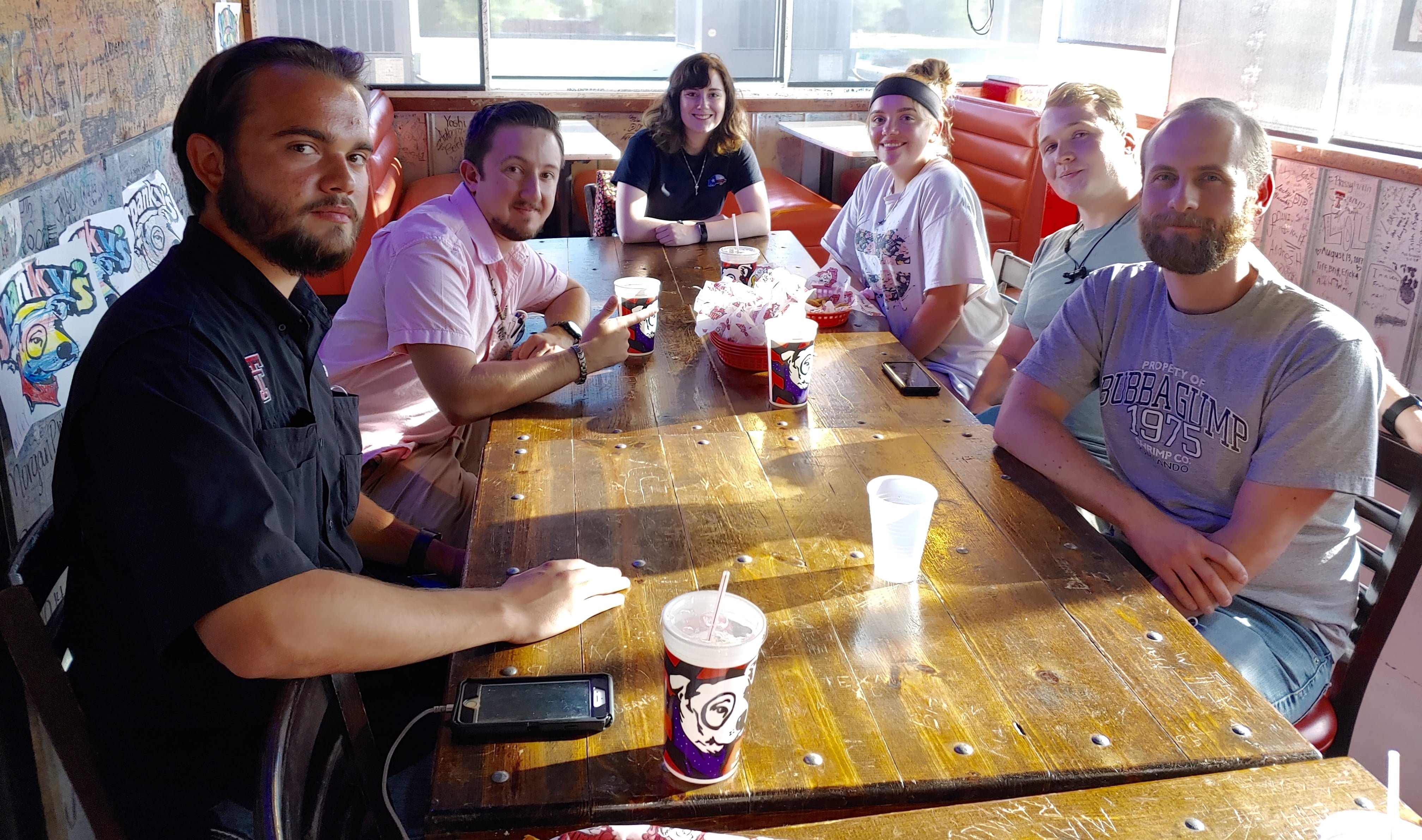 In photo above: Members of the leadership of Young Conservatives of Texas at Texas Tech meet up to discuss fighting against abortion at Spanky's restaurant near the Texas Tech campus.
One Lubbock resident who takes issue with Planned Parenthood's promised return is Skyler Wachsmann, a student at Texas Tech University and a current state board officer with the Young Conservatives of Texas. Wachsmann believes Lubbock is one of the most conservative cities in the country, one he believes still understands the value of human life.
\"Planned Parenthood makes its money by preying on the most vulnerable of us and has been the single biggest killer of black babies since its founding by eugenicist Margaret Sanger," Wachsmann shared, "There are so many options for struggling pregnant women that do not involve ending a precious life."
Lubbock Resident Dorothy Boyett does not want to see Planned Parenthood return either. "I spent 20 years on the sidewalk outside Planned Parenthood, formerly Aaron's on 67th Street, and do not want to see them return," said Boyett.
Several prominent elected officials in the Lubbock area appear to agree with residents like Wachsmann and Boyett … so much so that three prominent elected officials decided to write a letter to Lubbock's mayor and City Council.
On August 25th, in a letter addressed to Mayor Dan Pope, Texas Senator Charles Perry (Texas Senate District 28), Texas Representative Dustin Burrows (House District 83), and Texas Representative John Frullo (House District 84) wrote, "It has come to the attention of many in our area that Planned Parenthood, the nation's leading provider of abortion services, is planning to open a clinic in Lubbock between now and the end of the year. We respectfully request that the City of Lubbock take all necessary actions to prevent them from opening, since this organization profits off ending the lives of unborn children."
The letter continues: "The battlefield to protect the unborn has shifted from the state to the local arena in recent years. For that reason, passing an ordinance designating Lubbock as a Sanctuary City for the Unborn will help to continue the Texas belief that life begins at conception, while also protecting the safety of mothers."
The Sanctuary City for the Unborn ordinance which has been presented to the City of Lubbock states, "It shall be unlawful for any person to procure or perform an abortion of any type and at any stage of pregnancy in the City of Lubbock, Texas" and "It shall be unlawful for any person to knowingly aid or abet an abortion that occurs in the City of Lubbock, Texas."
If passed by a majority vote of the Lubbock City Council the enforceable ordinance would go into effect immediately.
Since Waskom (Population 2,189) outlawed abortion, the idea of cities outlawing abortion has become more and more of an accepted practice. Fourteen Texas cities have enacted enforceable ordinances outlawing abortion within their city limits.
While some have criticized cities for being involved in the abortion issue, city officials have come to realize this issue is a matter that directly impacts their cities.
Big Spring, Texas (population 28,864) which currently holds the title as the largest Sanctuary City for the Unborn in the nation.
In photo above: West Texas for Life President Jim Baxa meeting with Big Spring Mayor Shannon Thomason about Lubbock outlawing abortion at a recent meeting in Shallowater.
"It is absolutely the responsibility of mayors and city councils to step up and take responsibility for keeping abortion clinics out of their communities." said Big Spring Mayor Shannon Thomason. "Even discounting the moral implications involved, abortion clinics tend to be 'bad neighbors,' bringing unintended consequences to the business districts they locate in. Speaking for my city, the citizens and business owners were overwhelmingly against having an abortion facility locate in Big Spring."
If the mayor and City Council of Lubbock decide to join the growing number of Sanctuary Cities for the Unborn then Lubbock, a city with a population of almost 300,000, will become the largest Sanctuary City for the Unborn by about 270,000 people.
West Texas for Life President Jim Baxa agrees with Big Spring's mayor. "An abortion clinic would be absolutely horrible for Lubbock." Baxa continued, "God has placed the members of the Lubbock City Council in power and demands that they work righteousness from their positions. They were elected for such a time as this, when thousands of lives are on the line. I pray that they will lead Lubbock in banning abortion and stand as an example to the entire nation."
The Sanctuary City for the Unborn Ordinance is not on the Lubbock City Council's agenda at this time, but the ordinance is expected to be on the city's agenda in the near future. Other cities in West Texas that have outlawed abortion besides Big Spring include Westbrook (population 312), Whiteface (population 449) and Colorado City (population 4,146).
For more information about the Sanctuary Cities for the Unborn initiative, along with a growing list of potential cities, visit www.sanctuarycitiesfortheunborn.com
Mark Lee Dickson is a Director with Right to Life of East Texas, a Pastor of SovereignLOVE Church in Longview, Texas, and the founder of the Sanctuary Cities for the Unborn initiative.