In early 2007, then-new Texas Tech Chancellor Kent Hance visited the Lubbock Avalanche-Journal editorial board.
I'd been editor a little more than six months.
But I'd heard about the Permanent University Fund – the PUF – and asked Hance why it only benefitted the University of Texas and Texas A&M. Could that be changed?
"Terry, do you know how many Longhorns and Aggies are in the state Legislature?" the chancellor asked me.
Got the point.
Fourteen years later, state Rep. Dustin Burrows doesn't care how many Longhorns and Aggies are in the Legislature.
He's ticked off, calling the way the PUF is allocated "bad, arcane and byzantine."
So am I – and a whole lot of other people.
But Burrows and State Senator Charles Perry are doing something about it.
They filed legislation today to amend the PUF to allocate a third to emerging research universities and other Texas higher education institutions.
It's time somebody taught that greedy, arrogant school in Austin how to share because they obviously didn't learn in kindergarten.
The discussion about the PUF got new life when Texas and Oklahoma secretly negotiated a move to the Southeastern Conference. Depending on when the Longhorn and Sooner teams head east, it leaves the already depleted Big 12 with eight teams and the prospect of losing millions and millions in TV revenue when the current ESPN contract runs out in a few years.
I talked to Burrows a few days ago. He had a lot to say.
"Any story has a beginning, middle and end," said Burrows on a Zoom call from his Austin office.
The beginning was Texas and Oklahoma bailing on the Big 12.
"The University of Texas largely created the Big 12 Conference. Then they ran many schools out of the Big 12 to weaken it. They got a new president who looked around and said, wow, this is weakened and did not acknowledge that's because of them. Then they left, leaving us in a precarious situation in the Big 12," said Burrows.
That leads to the legislation introduced today – the developing middle of the story.
In a press release, Perry (seen below) said: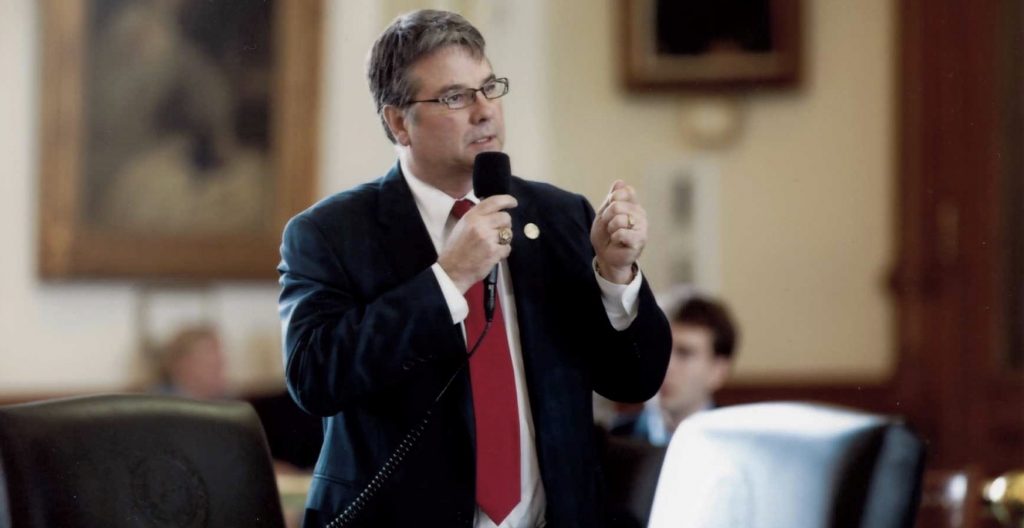 "Chairman Burrows and I filed constitutional amendments to reform the Permanent University Fund. In existence for over 130 years, the PUF Fund has distributed billions to two universities. Texas has almost 30 million people and dozens of public institutions of higher education. The PUF has served its original mission well which was to establish a globally impactful high quality education – mission accomplished. It is time for all college students to benefit from a truly Texas resource. This money could curb the high cost of tuition and curb property taxes, fund research, and provide funding to the ever-increasing important community colleges. It is time to positively impact post-secondary education for all students."
Why does Burrows think there's a chance to change this fund that's been pumping money to Austin since it was formed in 1883 and has a net asset value of more than $24 billion – with a "B."
"Because the numbers are even more astounding," he told me. "I think the University of Texas got $1.7 billion from the PUF this last cycle – that's larger than the entire endowment of the state of Texas."
"This is an opportunity to shine light on inequities of what we invest in our different university systems. We have to be smart about it. We have to be strategic about it. But I think there's a possibility to have a conversation about why UT is getting almost all of the resources in the state of Texas," said Burrows.
All the resources?
"It's not just the PUF (some of which goes to Texas A&M), but Texas is getting more per student that all the other universities – significantly more than Texas Tech or the University of Houston," he said.
In the chatter about what could happen to Texas Tech athletically, joining the Pac 12 has been mentioned a bunch on talk radio, social media and other platforms.
One of the reasons pessimists say it won't happen is Texas Tech is not a member of the American Association of Universities – and elite group of research universities.
Nine of the Pac 12's schools are AAU members.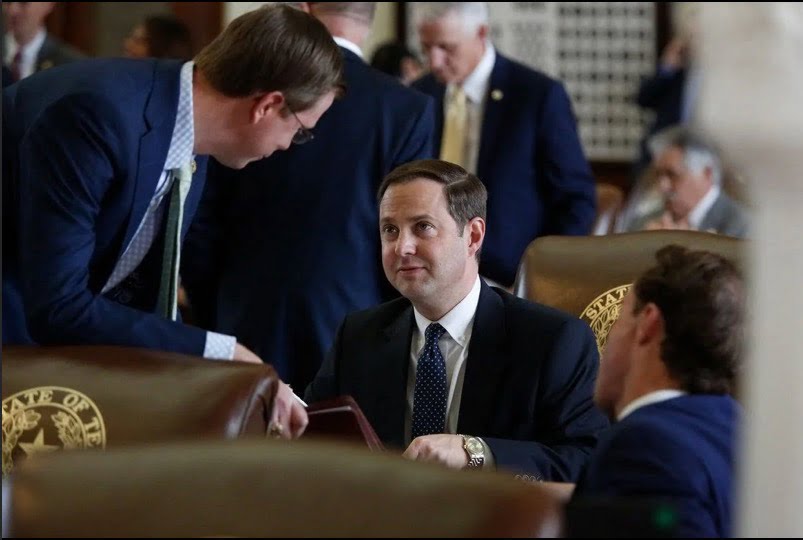 Burrows (above) is quick to point out maybe Texas Tech, the University of Houston and even other Texas schools could become members if the PUF mess was fixed.
"Assuming the Big 12 collapses, which a lot of people do – if we're precluded because we've not invested enough we should turn our attention there," he said.
There's been buzz about Kansas and Iowa State joining the Big 10 – almost all of its schools are in AAU.
"Those states put enough money into those schools so they can be in the AAU. It's embarrassing Texas has not made those investments in Texas Tech," he said.
Maybe Texas Tech – already a Tier One research university – could already be an AAU member if the PUF was addressed long before I asked Kent Hance that question in early 2007.
"Meanwhile, the University of Texas has the second-largest endowment of any school on the country," said Burrows.
"Texas has the largest athletics budget (A&M is number two) and when is enough enough. It's time to share some of our people's wealth with these other institutions to have them grow," he said.
Burrows told me it's embarrassing the state only has three AAU members – Texas, A&M and Rice.
California has ten – seven of them members of the University of California system.
It's also frustrating when you add in the PUF is funded from mineral rights in West Texas.
"I'm tired of hearing UT alumni, whether it's on social media or elsewhere, saying the University of Texas shouldn't subsidize athletics for the rest of the schools like Texas Tech. OK – then West Texas shouldn't subsidize the University of Texas. You can't have it one way," he said.
Of course Burrows expects pushback.
And he feels it's more than fair to only seek a third of the PUF for Tech and other Texas universities, leaving A&M with its share and UT still with a huge chunk of money.
Burrows and Perry hope the issue can be brought up during this second special session.
Regardless of what happens, Burrows believes Texas Tech will be fine.
"We're people on the edge of a desert who've learned to farm and suffer through lots of setbacks. The spirit of Texas Tech and West Texas is one of hard work and perseverance. I truly believe we will end up in a good location. Is it tomorrow? Is it four or five years from now? What is the cost? I don't know, that's beyond my pay grade. But it is something we should be concerned about," he said.
It helps to have representatives like Burrows and Perry taking the initiative.
And if they can fix the PUF, maybe they could take on a bigger issue. If the Big 12 survives in some form and has a number of schools that don't add up to a dozen, could they change the name? The same with the Big Ten, that now has a baker's dozen, plus one. I'm sure these examples are part of the reason American children have fallen behind the rest of the world in math.