It is easy to make fun of constables who parade around the county costumed like Third World dictators. There's no doubt, their antics on the highways are exciting, albeit expensive to the county. But Constable Jody "Barney" Barnes has taken the entertainment to new heights.
Helicopter heights.
Barnes became the first Lubbock County law enforcement vehicle to have helicopter numbers on the roof of his county-issued Chevy Tahoe. According to others with a badge, no other Lubbock County or city vehicles have the large and really cool helicopter numbers on the roof. Precinct 2 Constable Jody "Barney" Barnes is blazing a trail for the law enforcement profession.
It leaves us wondering if Barney realizes the Batcopter is make-believe?
Should we be surprised? Maybe there's a good reason for spending taxpayer money on vanity items? We requested, in addition to the invoices, any justification for this expenditure. There was none. It leaves us wondering if Barney realizes the Batcopter is make-believe?
Absent any justification in the response we received from Lubbock County, and with a little help from friends who prefer to remain unnamed, here are the top ten reasons why Constable Barnes might need helicopter numbers:
10. The DPS requested the roof modification so its helicopter can pick out the Constable from real law enforcement.
9. It was the only way to one-up Constable Hannah's four stars on his lapels.
We asked Barnes about rumors of an HR grievance … he threatened a criminal complaint in response.
8. So Barnes' vehicle can be a chase car for the Goodyear blimp the next time it comes to Lubbock (does the blimp travel to basketball games?).
7. Both users of the county skybridge think it's cool.
6. It reminds Barnes of the General Lee.
5. The highly reflective decals can be repurposed in the event of a zombie apocalypse.
4. Barnes is channeling the Keystone Cops.
3. Because it makes Barney feel like real poh-leece.
Hannah may wear the costume of a Third World dictator … but it is Barnes who has the act down pat.
2. Which number did he choose anyway?
1. So Barney knows which side is up after rolling his Tahoe.
It's fun to tease official silliness but courthouse leaks suggest Barnes' problems extend well beyond silly and into the outrageous.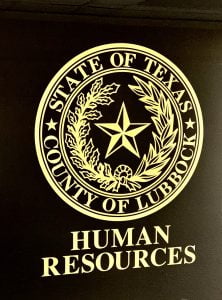 We asked Barnes last week, via text, about rumors of a Human Resources complaint made against him. The Constable responded with this threat: "Any further communication will result in a formal criminal complaint filed against you."
That's downright unfriendly from an elected official vested with arrest power. It leaves me thinking we're not friends anymore. But if the Constable is going to play in the law library he should start by reading the U.S. Constitution, or just skip back a few pages to Chapter 39.03 of the Texas Penal Code, "Official Oppression."
Sandstorm Scholar has opined before the problem with the position of constable is the lack of accountability. Constable Barnes' response is "Exhibit A" supporting this argument.
Barnes' instinct when asked a question? Arrest the journalist. What if the journalist resists the unlawful arrest? Will Barnes shoot him for asking a question? Constable Hannah may dress like a Third World dictator, but clearly it is Constable Barnes who has the act down pat.
It's not fun and helicopters anymore.
A constable is a Texas Peace Officer with the power to take your life, liberty and property. In my opinion, Constable Jody Barnes has no business operating under the color of law. He is an ongoing liability for the county and a danger to law-abiding citizens.
When you consider it from that perspective, it's not fun and helicopters anymore.