First of all, the Boy – and both of us should know better – misread the credits and informed me the movie "Crawl" had been directed by Sam Raimi. At that point, I only knew it was a man vs. 'gators monster movie, with gifted actor Barry Pepper co-starring for some reason.
Mind you, all of the women I live with look forward to "Sharknado" made-for-television sequels. I believe my wife Jill described them as "stupid fun."
But if Raimi truly had directed "Crawl," stakes would be raised. Raimi may have earned his start working with the "Evil Dead," but he climbed the ladder to direct "Darkman," "A Simple Plan" and the first and best "Spider-Man" films between 2002 and 2007.
Sure, "Crawl" might still impress (no guarantee) – but a closer look reveals that Raimi is one of three producers and Alexandre Aja directs. It isn't likely Raimi took control of the wheel, although, as a producer, he may like Aja and want to offer suggestions from the back seat.
Those who prefer theatrical drama should check out plays staged this weekend by Hub Theatre Group and Will of the Wind. But no worries; I've still got your back regarding fun movies. Read further for news about one-time-only screenings at the Alamo Drafthouse, all of which likely are more appealing than meeting alligators in tight quarters during a storm.
Hub Theatre Group: 'Collected Stories
Hub Theatre Group (aka, HTG) has remained one of Lubbock's staunchly reliable theater companies, having produced an entertaining stream of terrific, intelligently directed and strongly acted plays.
Executive director Bob Chanda purposely aims higher than plays well known to a community theater crowd. Rather, Chanda, repeatedly and dependably, has discovered and shared legitimate artistic hits that often inspire post-performance discussions.
Kudos to Chanda for willingly remaining after the play with actors to participate in discussions.
Now … what could be a better Best Bet than a free HTG production?
This weekend Hub Theatre Group stages three free performances of "Collected Stories," a prize winning play by Donald Margulies, at 7:30 p.m. Friday and Saturday and also at 2 p.m. Sunday. Performances are at the Talkington Center for the Arts' Black Box Theatre, on the All Saints Episcopal School campus.
The official street address is 3222 103rd Street, but actress Paula Chanda added, "It helps to point out that the Black Box Theatre is on the west side of campus, off of All Saints Way."
Margulies' "Collected Stories" premiered in 1996 at South Coast Repertory Theater. The play became a Pulitzer Prize finalist in 1997, making its way to Broadway in 2010.
Why stage it free in Lubbock?
Research by Bob Chanda confirmed  live theater faces challenges in maintaining audiences and reaching new audiences, because audiences have more entertainment options than ever before. He quoted the National Endowment for the Arts, saying audience numbers have been on the decline for live, non-musical theater since 2002.
Frankly, too many mistakenly perceive live theater as "high art" staged only for "elite" audiences at high ticket prices.
Rather than giving in, Chanda created a Discover Theater Initiative.
The idea, he noted, is to "identify groups to invite to watch HTG plays at no charge," particularly people who are not established theatergoers and/or lack the means to attend theater on a regular basis.
The hope, continued Chanda, is to get rid of any barriers to access, and expose more people to compelling, live theater.
Are you interested in seeing even more plays free, or spreading the word? Contact Bob Chanda at [email protected] and/or visit the HTG web site at hubtheatregroup.org.
"Collected Stories" was inspired by a literary scandal revealed through Stephen Spender's now-famous letter to the New York Times (Sept. 4, 1995), in which he accused American novelist David Leavitt of plagiarizing Spender's 1951 novel "World Within World" within Leavitt's 1993 novel "While England Sleeps."
Plagiarism was apparent, wrote Spender, in "literary structure, character development, dialogue and plot."
In HTG's presentation of "Collected Stories," directed by Bob Chanda, conflict is established between a popular artist and an admiring fan who becomes first a protégé, disciple, colleague, friend and finally a threatening rival.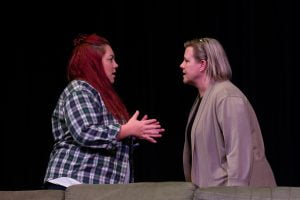 Specifically, Ruth (played by Paula Chanda) is a teacher and respected short story writer. Her student and protégé is Lisa (played by Alex Webster) … (both seen above in photo by  Allison Roberts). Lisa evolves from insecure student to successful writer over six years.
But then, after publishing a well-received collection of short stories, Lisa writes a novel based on Ruth's affair with a known poet. The women deal with the moral dilemma of whether a person's life events are suitable for another to use in their own creative process.
Margulies, who teaches playwriting at Yale University, commented he is aware that "mentors and proteges exist everywhere."
Remember the Alamo: Specialty Films, Movie Parties
As interesting as much of the local entertainment is this weekend, especially the re-emergence of Hub Theatre Group, sometimes we forget how much fun we have at the movies. The next few days provide a virtual plethora of just that – fun – via one-time showings at the Alamo Drafthouse, 120 West Loop 289.
Consider: "Mulholland Drive," "Hard Boiled," "Jaws" and Prince's "Purple Rain" – all on the big screen, the latter two being movie "parties." Note, too, Alamo movie parties occasionally have hosts, always include props and usually sell out in advance. Quick ticket purchases are advised.
Let's begin with those parties, which had between two and four rows of seats available when I checked.
"Jaws" movie party – 6 p.m. Sunday, $14. The movie that gave birth to the "summer blockbuster," a film which found director Steven Spielberg fighting mechanical issues with a robotic shark named Bruce and yet emerged one of the thriller genre's greatest films. Released in 1975, it became history's most profitable film until losing that title in 1977 to "Star Wars." Plot: The arrival of a man-eating Great White Shark threatens fictional summer resort town Amity. Robert Shaw excels as the professional shark hunter hired by the town to kill it. He is accompanied on the ocean by a marine biologist (Richard Dreyfuss) and the Amity police chief (Roy Scheider) who hates being on the water. A great example of a movie that is far better than the novel, by Peter Benchley, which inspired it.
"Purple Rain" movie party – 7:30 p.m. Tuesday, $14. Prince makes his acting debut as a troubled Minneapolis club musician called The Kid, a character based in part on Prince himself. The 1984 American rock musical was directed by Albert Magnoli with a $7 million budget. It grossed approximately $150 million, and is the final film to win an Academy Award in the category of Best Original Song Score. Alamo management may frown on singing along, but look for Prince fans to at least be mouthing the lyrics and tapping their feet when Prince and his band, The Revolution, perform such hits as "When Doves Cry," "Let's Go Crazy," "Darling Nikki" and the film's title song.
"Hard Boiled" – 7:30 p.m. Monday, $10. Likely presented in Chinese with English subtitles. Starring Chow Yun-fat as Inspector "Tequila" Yuen, "Hard Boiled" was the last great Chinese film directed by John Woo before Hollywood beckoned and he made such American projects as "Broken Arrow," still underrated "Face/Off" and memorable "Mission Impossible II." Having been criticized by some for glamorizing gangsters in crime films, Woo delivered an about-face with "Hard Boiled," which found him wanting to create a "Dirty Harry"-like lawman. "Hard Boiled" was released in Hong Kong in 1992; most western critics loved it, but it failed to match the profits of Woo's earlier, action-packed Chinese efforts, "The Killer" and "A Better Tomorrow."
"Mulholland Drive" – 10 p.m. Friday, $10. Still one of my favorite David Lynch films and, yes, I suppose it helps to be a Lynch admirer before taking it on. That said, I recall watching this film for the first time with friend James Eppler – and the moment when both of us shared What The Heck expressions. Understanding the film is not key to enjoying it, as Lynch's storytelling about the dark underside of Hollywood never loses its grip. Note: The Guardian asked several critics to share analyses of the story. Lynch never provided definitive interpretations or symbolism – although, when the DVD for this 2001 mystery was released, he offered 10 rather wacky "clues" intended to aid understanding. Clues such as pay heed to the red lampshade, robe, ashtray, coffee cup and/or location of Aunt Ruth. What? Personal opinion: Naomi Watts joined the ranks of Hollywood's most beautiful actresses, thanks to Lynch. Her character, a young ingenue, arrives in Hollywood hoping to find fame, only to become entangled in several ways with an amnesiac played by Laura Elena Harring. Independent vignettes also introduce nightmarish possibilities, including dreams and alternate realities. I love former star Ann Miller's work as Coco, and some may be surprised when Billy Ray Cyrus makes an appearance.
Pecan Grill Lounge: Craig Elliott
Happily, finding area singer-songwriter Craig Elliott is a bit easier. Those booking theaters and nightspots have noticed his following, resulting in more appearances.
Elliott will perform from 7 p.m. to 10 p.m. Friday and Saturday, inside the Pecan Grill Lounge at the Overton Hotel and Conference Center, 2322 Mac Davis Lane. There is no cover charge.
Call 776-7000 for more details.
The Midland native graduated from Texas Tech with a degree in petroleum engineering, then had no trouble putting that degree to work for a full year before feeling a need to chase another goal.
He began playing guitar at age 15, and continued performing when he had a chance during college. Moving back to Lubbock and giving all of his attention to music, Elliott recorded and released his first CD of original songs, "Just Keep Listening," in 2011. Three songs have been released thus far from his second album.
Elliott will play covers at his local appearances. But fans also appreciate the wide variety of blended pop, rock and blues within his originals.
Moonlight Musicals: 'Aladdin Jr.'
The edited "Jr" performance actually is a Moonlight Arts Academy production. Thus, expect Broadway's original musical adaptation of "Aladdin" to be shortened to approximately one hour – with a cast of primarily younger actors from the MAA.
Know going in what to expect and you likely will not be disappointed.
The director is Moonlight Musicals veteran Frank Rendon. He promises an energetic, gifted cast.
"These kids had a blast putting this show together. Our hope is that the fun they have translates into the fun people will have when coming to see this production," he said.
Previous years found Moonlight Musicals limiting youth performances to weekend mornings. The plan this year was more massive, under new executive director Justin Duncan. He planned, initially, to spotlight the younger cast at 9 a.m. Fridays and Saturdays, and also substitute the same "Jr." production into the regular Moonlight Musicals Season with evening performances.
The show's publicist confirmed this week the number of performances was reduced. There will be no morning presentations in 2019.
Rather, "Aladdin Jr." will be staged at 8 p.m. Fridays and Saturdays this weekend and next at the Moonlight Musicals Amphitheater, 413 E. Broadway. All seats are $12 (including service charge). Tickets  can be purchased in advance by calling Select-A-Seat at 770-2000 or visiting the online site https://moonlightmusicals.com/show/aladdin-jr/.
Songs "Arabian Nights," "Friend Like Me" and "A Whole New World" – originally heard in the 1992 award-winning animated film – have been retained.
Stars include Caleb Davidson as Aladdin, Katelyn Quintanilla as Jasmine and Ricky West as Genie.
C.A.T.S. Playhouse: 'Alice in Wonderland'
One famous Alice has been around for quite a while. It was 1865 when the novel "Alice's Adventures in Wonderland" was penned by British author Charles Lutwidge Dodgson, forever remembered under his pseudonym of Lewis Carroll.
Of course, a delightful Disney animated adaptation, "Alice in Wonderland," was released in 1951. Film director Tim Burton would make memorable changes in his own 2010 live-action film.
Numerous stage versions are available, and Lubbock's Children and Adults Theatrical Studio – known as C.A.T.S. Playhouse – now offers a three-weekend run of playwright Michele L. Vacca's theatrical adaptation, "Alice in Wonderland."
Director Ginny Case cast some adults – look for Mickie Klafka as the Queen of Hearts – but much of the fun is provided by younger students portraying this familiar story's colorful characters.
"Alice in Wonderland" will be performed at 7 p.m. Fridays and Saturdays, July 12-13. 19-20 and 26-27 at the C.A.T.S Playhouse, 2257 34th St.
Tickets are $10 and can be purchased at the door. The theater's website has no link devoted to advance ticket sales.
The play has numerous funny characters, most recognized since childhood. I saw no full cast list; however, Iris Maldonado portrays the title character and Isadore Klafka is cast as the narrator.
Call 792-0501 or email [email protected] for more details.