One COVID-vaccine shot down, one to go and I know it'll be next month.
At a time where it seems almost everyone is ticked off about something in government, the City of Lubbock is doing a great job distributing the vaccine.
So if you're eligible now or when you are, get yours and do your part to stop this virus.
Stop people from dying,  empty our hospital beds, fill up restaurants, concert halls and sports arenas.
Two shots in the arm to get us back to normal.
We … collectively in Lubbock and  across our country … did a tragic job of not wearing masks and social distancing. Our COVID numbers and deaths skyrocketed.
I don't care what the survival rate is. I don't care if you think it's all some way for the government to control us. We're nearing 700 deaths in Lubbock and when I look at what some other countries did to stop this, I know many of those people would be alive. Some of them I know. You do too.
Shame on us.
We're being given another chance to do the right thing.
When the vaccines were approved in December, I heard it might be available in January or February for people over 65.
I'm 66.
But after medical personnel, first responders and people in assisted living centers started getting the vaccine, I saw it was available for people over 65 and those 18-65 with specific medical conditions.
My fiance, who's also 66, tried to get an appointment on the phone, but could not. Then the city switched appointments to Select-A-Seat, which I've used many times for concert tickets. Within a couple of days, Donna got us appointments for 2:30 Wednesday afternoon.
I'd been seeing Facebook posts from people saying they were in line 45 minutes to an hour at the Civic Center. I was prepared to wait … which is completely worth it.
Then we saw another note, saying be there 15 minutes early.
We pulled up at the Civic Center a few minutes before 2:15 p.,m.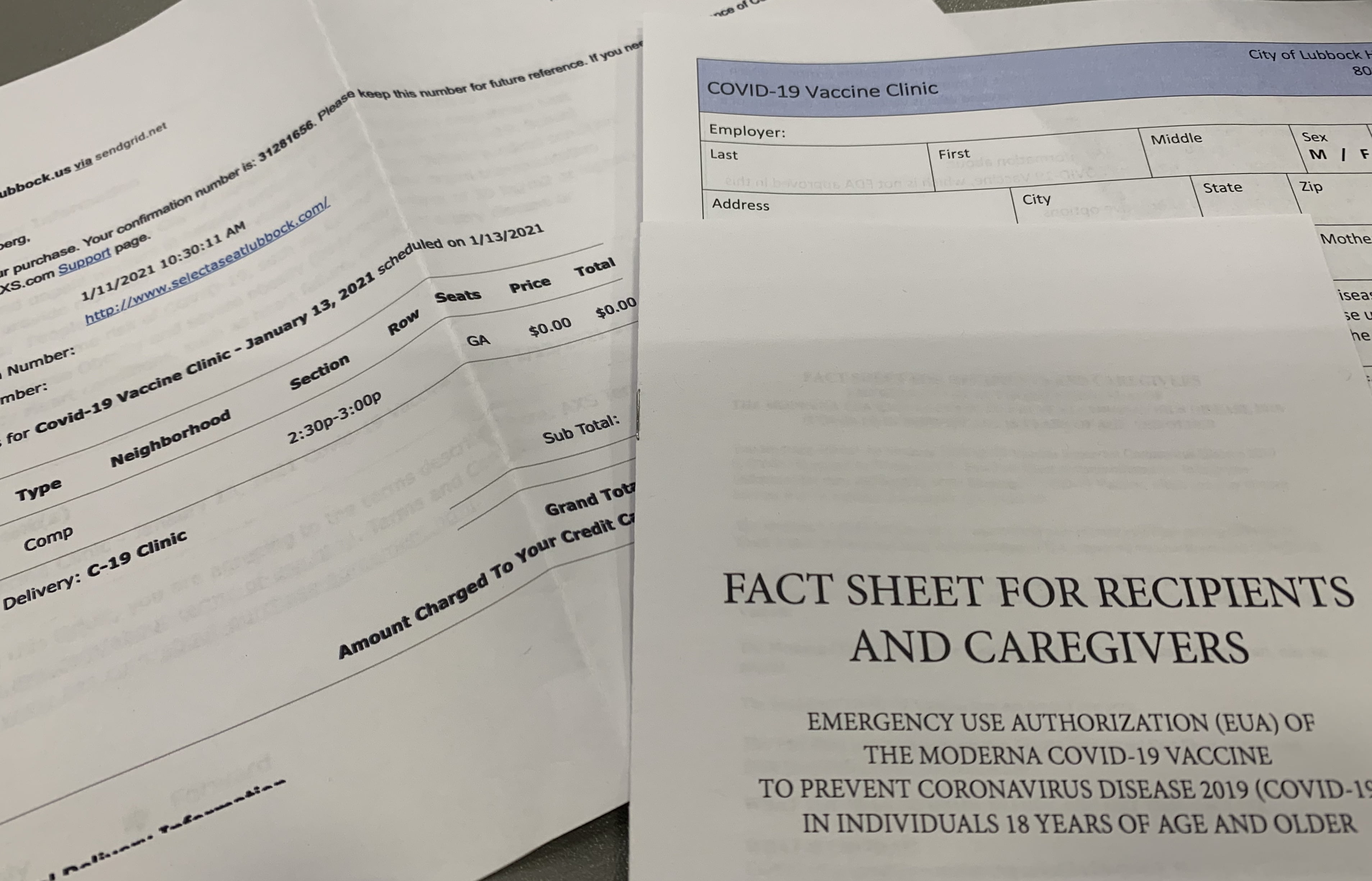 We gave them our names, filled out a form (seen above), got the shot (I didn't even feel it) and were told to sit in an area for 15 minutes to make sure we were fine. If we didn't have to wait the 15 minutes, the whole process would have taken 15 minutes.
The process is impressive … and now Lubbock will be a regional center to distribute the vaccines.
My left arm is sore … not different than a recent flu shot and I feel fine.
I feel even better knowing there's a plan for the second shot.
Afterwards, we went for a treat. Remember when you were a kid and got a treat after getting a shot?
Well, when you're 66, that means a wine tasting at McPherson Cellars.
I highly recommend it … and getting the shot.