First, the positives of traveling to Los Angeles in a time of coronavirus …
Traffic's a lot better.
Our flights from Lubbock to Las Vegas and Vegas to Los Angeles were not crowded – easier to get on and off and more room to stretch out.
I'm really getting used to hand sanitizer and washing my hands while singing the "Happy Birthday" song.
And … that's about it for the positives. Like there are any positives about this situation.
My girlfriend Donna and I went out to L.A. for my grandson Noam's first birthday party and to celebrate my mom's 91st birthday a few weeks early. Daughter Lucy also came west from Lubbock and daughter Annika came from Minneapolis.
Should we have gone?
Yes – and no.
But we did. That said … when we left last week, few of the tough measures we've seen happen in response had happened.  Most of it happened while we were there.
I try and take every chance to get my family together in our ancestral homeland – which, I guess – is actually Poland going east toward Belarus.
But since my parents moved to L.A. from Chicago in 1952, it's been L.A.
We wanted to be there to celebrate with my daughter Rebecca and her husband Chuck on the first birthday of their son Noam – my first grandchild.
With the girls' busy lives, it's harder and harder to find time we can all be together.
I usually get out there two-to-three times a year. Last year after Noam was born, it was six trips.
Amazing how that happens, eh?
But I don't always have all three daughters there at the same time. Those times are very special.
It was, though, a different – and sometimes a bit scary – trip.
Before we left, Donna asked, "What do we do if they cancel our return flight?"
We rent a car and drive back, I said.
We got in on Thursday night and flew back Monday.
As the plane took off over the Pacific and banked left to head east to Lubbock, there were just less than 4,000 corona virus cases in California – a state with tens of millions of people. I think our odds are good.
But in many ways it was a surreal few days.
Donna recently moved to Lubbock from Albuquerque. She loves Lubbock, but wishes we had a Trader Joe's – the niche grocery store. So we left room in our suitcases for a small load from Trader Joe's – there are countless ones in Southern California.
The one we usually visit by my mom's house was only letting people in in groups – we assumed it was to encourage social distancing.
Social distancing – a new concept we're all learning. I hear extreme introverts are teaching classes.
By the time we left, California's governor had ordered bars to close and was telling restaurants to spread out tables to keep people spaced out.
But Saturday morning, we were able to find a table at one of our favorite breakfast places in Hermosa Beach.
Afterwards, we decided to try the Trader Joe's near there and walked right in. While Donna was checking off her list I chatted up a guy in the wine department. I told him I was surprised we just walked right in after seeing the line at the other one.
"Well, the line to get in here when we opened this morning was around the block," he said.
There were empty shelves here and there (see photo at top), but Donna got everything except one item.
We also went shopping at a grocery store closer to my mom's house. Lots more empty shelves. No eggs.
What was really weird looking was the canned soup aisle.
You know how the soup aisle is always full?
It was about half full in spots and pushed way back.
When we were at the beach restaurant, we saw a group of girls in Wayne Volleyball gear. As we were walking out, I asked if they played for Wayne State, which I thought was near Detroit.
No, they said, they were from Wayne State College in Nebraska and were out there for a beach volleyball tournament.
"Wayne State University of the one near Detroit," one said.
"Is the tournament still going on?" I asked.
"No – it's been canceled," one of the girls said.
"I guess there are worst places to have to spend a few days after a canceled tournament," I said.
The group concurred.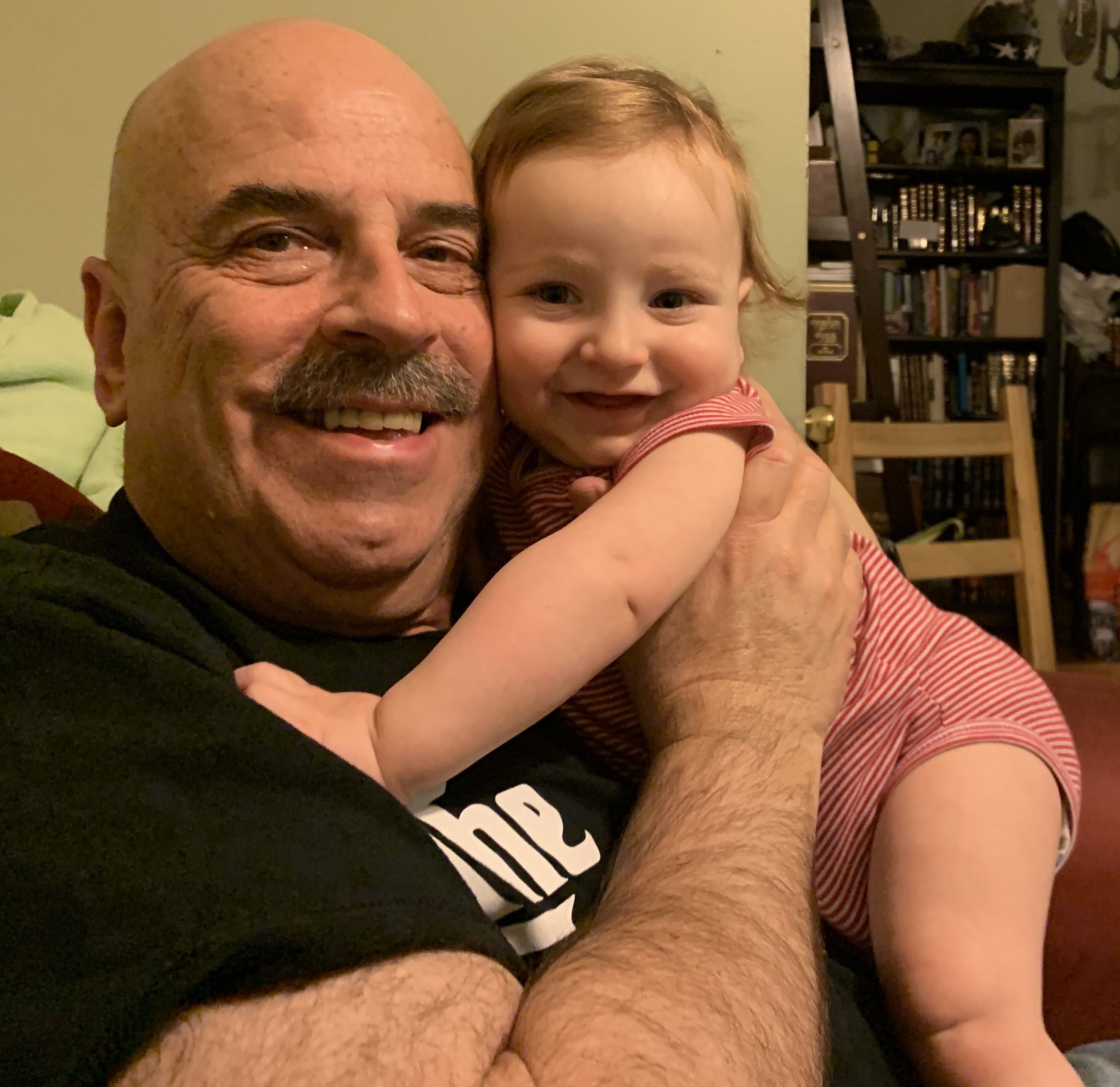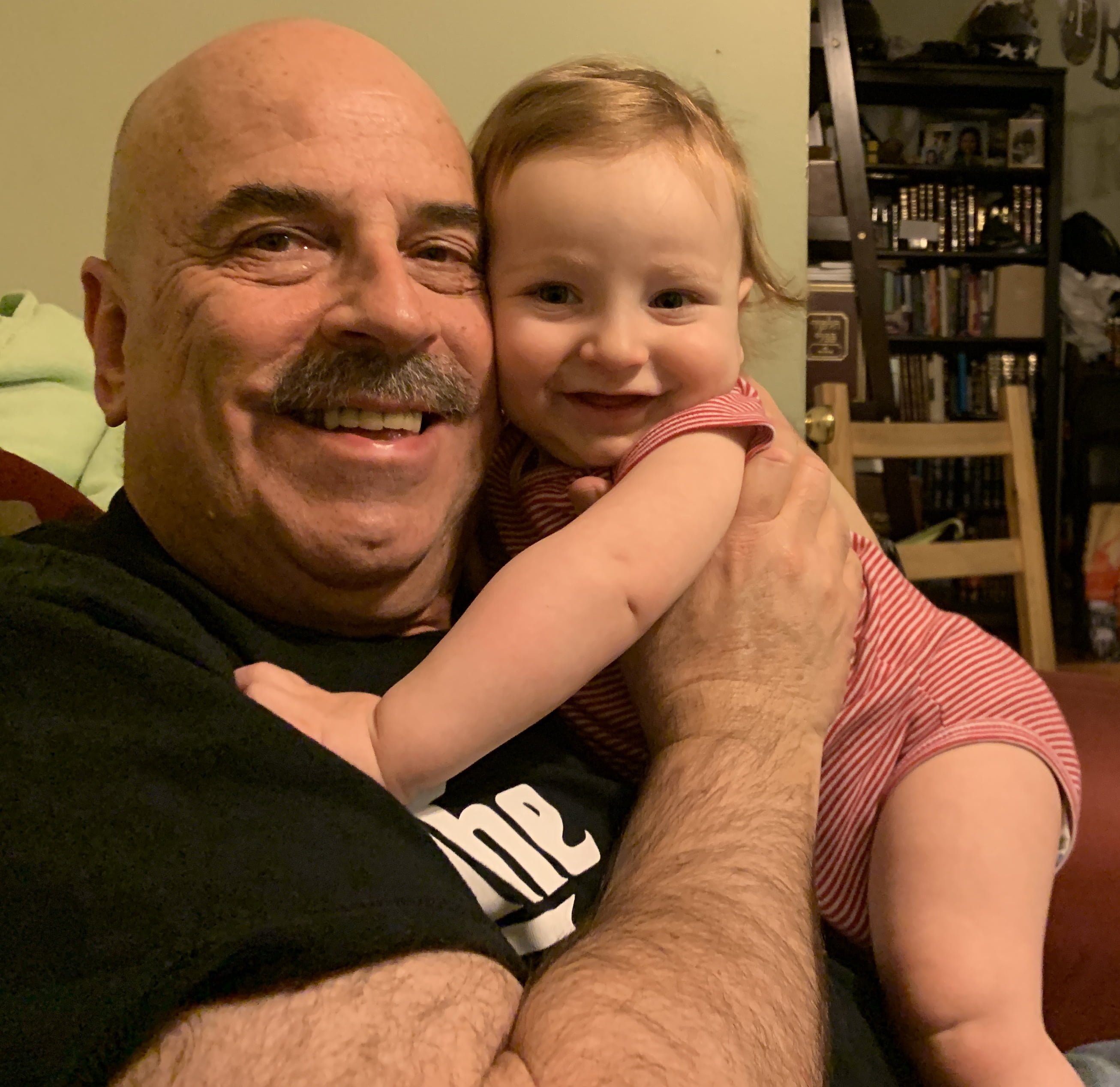 On Friday Donna, mom and I sat Noam (seen with his Grand Dude above) for most of the day – he entertained us brilliantly rolling a little orange on the floor and crawling at warp speed.
We celebrated my mom's 91st with a dinner at Rebecca's home at Saturday.
The next day we celebrated Noam's first birthday at a park near Rebecca's home. Donna was very popular as she shared her large size bottle of hand sanitizer with guests.
But there was this surreal presence draped over the entire time.
How many new cases?
How many new deaths?
New closures being announced every day.
The funny thing is that I, my sister, Donna and my girls all had to encourage my mom to hunker down at home. She's so active – still does her grocery shopping, plays mahjong three times a week at senior centers. But while we were there, the senior centers got shut down and Rebecca was offering to get groceries for her.
As we left, in some ways it felt like we were getting out of Europe before the Germans came in, or getting out of Iran as the shah fell … getting away before the zombies invaded.
Before we took off from L.A., Lucy saw a few people getting off flights in full hazmat suits.
When we landed in Las Vegas to make our connection to Lubbock, we passed a woman down on the ground – her face mask askew and two men hovering over her. She was moaning and in distress. I turned to see two women at a counter and asked if someone had called for help. One said the call had been made. I didn't think I could help by waiting, so we headed off for our gate.
While we had a drink and lunch, we saw news of casinos starting to close.
I'm sure someone, somewhere is re-reading Revelation, assured these are the end times.
I don't think so.
Meanwhile, I'm back in Lubbock and telling clients of Greenberg Media Management that I was in L.A. for a few days, feel fine, but if they want me to not come by their offices for a week or two to make sure, I'll comply.
Do everything you can to flatten the curve at least through March and then – I pray – we'll see some improvement.
In the meantime, Donna's researching how to make quarantinis … gin and Emergen-C.