"Mank"
Rated: R for "some language."
Streaming only on Netflix.
Direction: David Fincher.
Stars: Gary Oldman, Amanda Seyfried, Lily Collins, Tom Pelphrey, Arliss Howard, Tuppence Middleton, Monika Gossman, Joseph Cross, Sam Troughton, Toby Leonard Moore, Tom Burke, Charles Dance, Ferdinand Kingsley and Jeff Harms.
Screenplay: Jack Fincher (who died in 2003).
Music: Trent Reznor and Atticus Ross.
Cinematography: Erik Messerschmidt.
Editing: Kirk Baxter.
Production design: Donald Graham Burt.
Art direction: Chris Craine and Dan Webster.
Costume design: Trish Summerville.
Bill's rating: 4 of 5 stars
It is Orson Welles' young collaborator, John Houseman (Sam Troughton), who tells screenwriter Herman J. Mankiewicz in "Mank" that settings within the script for his newest movie hop around like Mexican jumping beans.
He suggested moviegoers might need a roadmap to follow the plot.
David Fincher, returning to directing after a six-year absence, was lured by an unfilmed screenplay by his late father, Jack Fincher. Cancer claimed Jack in 2003, a decade after his son began making movies.
The same might be said at times about Jack's script.
Rest assured David recognizes the power of movies about making movies. One almost loses count of the number of successful films centered on the movie industry. "Mank" centers on the eventual war played out between Mankiewicz and Welles over screenplay credit for "Citizen Kane."
As it turned out, "Citizen Kane" was nominated for nine Oscars. It would win only for screenplay.
Arbitration through the Screenwriters Guild found Mankiewicz and Welles forced to share credit. But Mank's name was to be placed first.
Mind you, Mank for years worked behind the scenes on dozens of scripts without claiming or accepting credit, including "The Wizard of Oz" and "Pride of the Yankees."
The screenwriter winds up influenced by so many telling him his "Citizen Kane" script is "the best thing he'd ever written." Gary Oldman is brilliant as Mank, despite being cast as a character half his age.
Mank breaks the news to Welles, who is very much caught by surprise as he obviously expected to be revered for doing it all – producing, writing, directing and starring in "Kane."
Thirty years after the film's release, critic Pauline Kael wrote a lengthy piece for The New Yorker in which she sang the praises of Mank, adding he wrote or helped write more than three dozen of her favorite movies, including "Kane."
This movie hints at, but does not prove anything.
In fact, one almost wishes the Finchers, father and son, had opted to write a straight biography of Mankiewicz. That alone would make a fascinating movie.
However, Fincher feels those who love movies about making movies – and their numbers remain legion – would be more interested in being introduced to Hollywood big shots David O. Selznick (Toby Leonard Moore) and Louis B. Mayer (Arliss Howard), especially when revealing how the latter convinces everyone from stars to grips to accept a pay cut at MGM.
Audiences may share Mank's disgust.
The film introduces Irving Thalberg (Ferdinand Kingsley), writer Ben Hecht (Jeff Harms) and scores of other names from the past..
We actually see newspaper mogul Randolph Hearst (Charles Dance), who made his fortune with what some today would call fake news, owning a high percentage of America's newspapers and forcing them to print what he feels the people should think.
Through a relative of Hearst's mistress, actress Marion Davies, Mank and Hearst actually become friends for some time.
Davies (Amanda Seyfried's very best work), also befriends Mank, never dreaming he might one day betray shared secrets about the man she loves.
Gorgeous black-and-white cinematography by Erik Messerschmidt transports us back to the 1920s and '30s.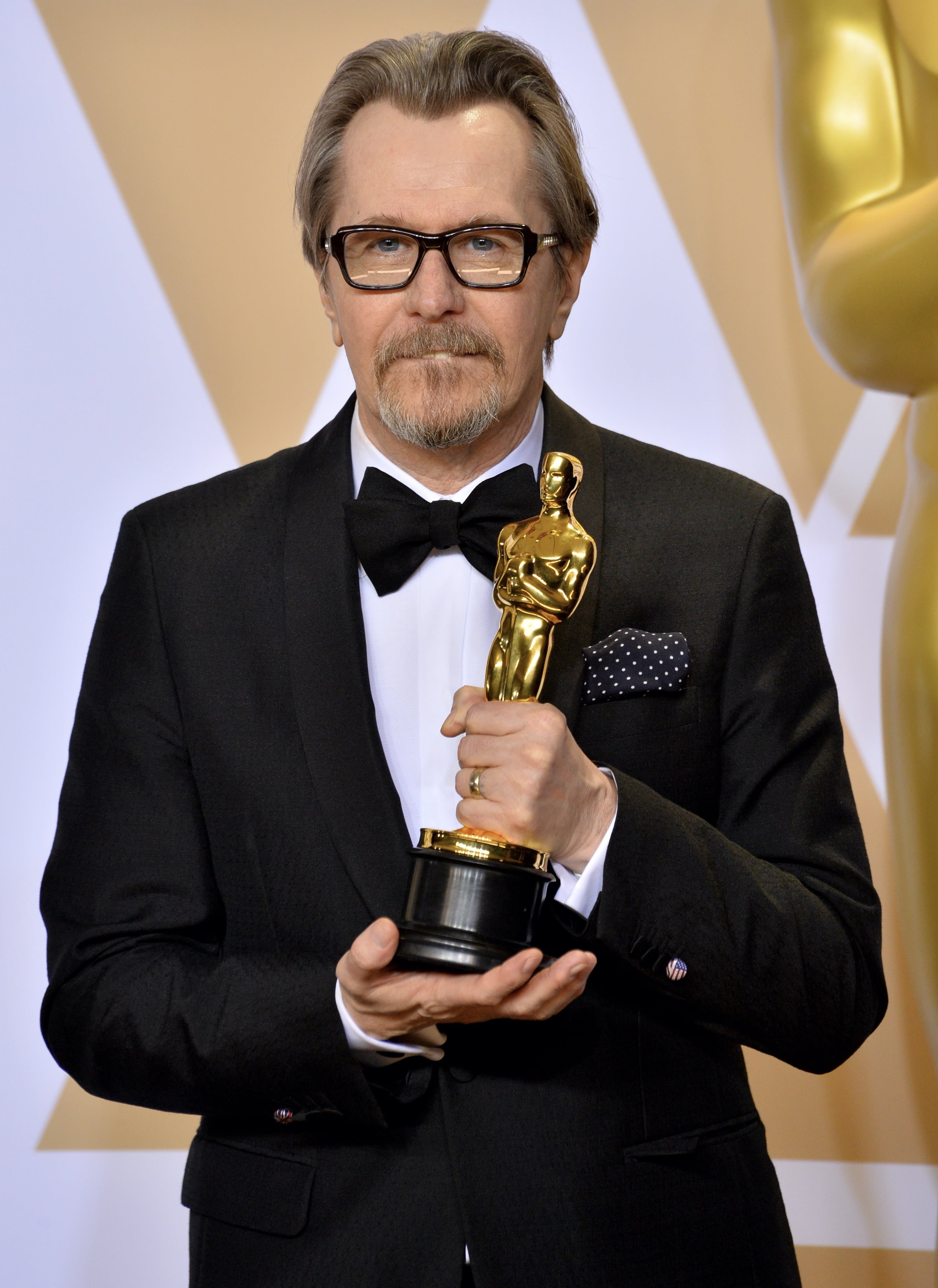 Seyfried joins Oldman (seen above) as the film's most likely candidates for Academy Award acting nominations. Seyfried earns support partly because audiences, already mesmerized by Hollywood's dream factory, were in total support of the alcoholic title character until a perceived betrayal. She also expresses a delightful sense of humor.
With one leg in a cast, Oldman's character first arrives at a secluded California ranch, where Welles wants him isolated to both dry out and finish his script.
So many memorable Hollywood lines are shared on screen. For example, Mank describes the ranch and southern California as the sort of place that God would buy, if only He had enough money.
Mank's drinking finds him vomiting at a Hollywood bash. He recovers, noting at least it was white wine that came up with the fish. He is also aware each time attempts at humor fall flat or hurt someone, describing himself as "the last man in the room," foot firmly in his mouth.
Fincher did not have to wait until a recreated early Oscars ceremony to emphasize why Welles is so disliked in Hollywood. After all, he never made his bones on screen.
Rather, it was Welles' work with New York theater and radio dramas that brought him fame. His Mercury Theatre's 1938 radio broadcast based on author H.G. Welles' "The War of the Worlds" panicked a large portion of the country, yet ended with national news headlines and Welles on the cover of Time magazine.
So it comes as little surprise when motion picture studio RKO, in need of help in Hollywood, lures Welles west with a bucket of money and promises.
What was surprising was not the paycheck, but rather Welles being given full and final control over his first two projects.
After all, at age 24, he never had even made one movie.
No one could have dreamed that his winning streak might continue when he set "Heart of Darkness" aside and sent for former collaborator Mank to work on the controversial "Citizen Kane."
Hearst (Charles Dance) would wind up even offering RKO $800,000 for the final print of the movie, or a promise it never would be released.
But Welles (Tom Burke) had been promised, in writing, no interference from the studio. So not even Hearst's refusal to accept advertising for "Citizen Kane" in any of his newspapers, could stop the public from finding it.
A resentful Hollywood did deny Welles personal Oscars, but no one would deny the brilliance of the script.
Following years would find "Citizen Kane" called one of history's best films, and "Mank" reveals how the picture was made.
Nevertheless, Fincher would have been better off focusing more on the battle between Mankowicz and Welles. "Mank," a bit dry, remains fun to watch, with wonderful production design, glorious cinematography and faultless acting.
Personally, I preceded my Netflix viewing by watching the original "Citizen Kane" again, as well as the documentary "The Battle Over Citizen Kane." It helped. But I still got the feeling that "Mank" will be best appreciated by critics, film nerds and those whose ears perk up when Hollywood stars are introduced or their names come up in conversation.
And "Mank" is never short on name-dropping.
Gage's rating: 3 1/2 of 5 stars
Orson Welles' "Citizen Kane" arguably is one of history's best movies. Or at the least, best-written movies.
The title alone carries a lot of weight.
"Mank" follows the footsteps of screenwriter Herman Mankiewicz, nicknamed Mank, after he travels to California at Welles' request. We witness through his eyes Hollywood in the 1930s. At the same time, he is being kept isolated – pushing away liquor bottles long enough to finish writing "Citizen Kane."
"Mank" is considered a phenomenal movie with top-notch acting. While Oscar winner Gary Oldman delivers another great performance, the film as a whole fails to live up to hype.
Not quite anyway.
Oldman stars as Mankiewicz. I felt the actor was better as Winston Churchill (2017's "Darkest Hour"), but again he's phenomenal. He carries "Mank." This movie would not work as well with any other actor in the title role. High praise, I know.
The script is not as interesting as I had hoped. Yet Oldman is reason enough to watch "Mank," which can be seen only on Netflix.
Supporting players impress, even in Oldman's shadow. Amanda Seyfried, as actress Marion Davies, is touching. She communicates as much with her eyes as dialogue upon reading "the script" and recognizing similarities to the woman most dear to newspaper publisher William Randolph Hearst.
Mank's "Citizen Kane" finds Hearst attacked more than satirized, with the writer following the wishes of the young boy wonder who was lured to Hollywood with money and an unheard of contract.
A studio offers Welles full and final control over his very first movies, never dreaming of the furor caused by "Citizen Kane."
"Are you ready to hunt the great white whale?" asks Welles upon the arrival of Mankiewicz.
"Call me Ahab," responds Mank.
Lily Collins also is terrific, interacting with Oldman as Rita Alexander, Manks' personal secretary. Alexander is that rare woman with the strength and fearlessness to remind the alcoholic writer of his fast approaching script deadline.
No other supporting actor, even those introduced as real life celebrities, pops out of the screen with as much authenticity.
The script is credited to director David Fincher's late father, Jack Fincher. Jack died of cancer in 2003.
But the script was weak, perhaps because it's layered with so many real-life references. The film might have been stronger had the story been told in a more chronological fashion, without so many flashbacks.
Some scenes only increase running time; they could have been deleted to the betterment of "Mank." One example: A lavish California gubernatorial election party thrown by a film mogul under the influence of Hearst. Even gifted performances here fail to progress the story.
Yes, some references are fine. But Fincher devotes too much energy to making certain each one makes it into his movie. Time would be better spent on improving the narrative.
A film with a few references and a great story, after all, tops a movie weakened by a lot of name-dropping.
Fincher also films in black-and-white. I understand wanting the picture to have a 1930s feel, but even people from that era did not view the world in black-and-white.
Overall, "Mank" is well directed. David Fincher knows what he wants to say and gets his point across.
Credit also is earned by cinematographer Erik Messerschmidt, especially when his camera follows Mank and Marion at twilight as they walk alongside a privately-owned zoo on the grounds of a mogul's mansion. The black-and-white never won me over; yet this is my favorite sequence and includes some of Oldman's best work.
Mank is a mixed bag – not the five-star masterpiece expected, and likely enjoyed most by those who enjoy movies about movie-making, especially those curious about what Hollywood was like back in the 1930s.