In photo above: Igor (Eli Kollman) happily observes blooming romance of Frederick (Travis Burge) and Inga (Natalie Stanislaus) in "Young Frankenstein: The Mel Brooks Musical." Mark Umstot Photography
Theater facts:
Attraction: Musical comedy "Young Frankenstein: The Mel Brooks Musical," music and lyrics by Mel Brooks, and book by Brooks and Thomas Meehan.
When: Lubbock Community Theatre production staged at 7:30 p.m. Friday and Saturday, and 2:30 p.m. Sunday.
Where: Firehouse Theatre in LHUCA, 511 Ave. K.
Tickets: $25 general public and $20 for seniors and students with valid IDs.
Outlets: Tickets available online at lubbockcommunitytheatre.org.
Stage direction: Leah Tyson Houchin.
Music direction: Annie Burge.
Choreography: Molly Roberts and Sulma Benitez.
Light and sound design: Jim Bush.
Costumes: Diane Bancroft and Patti Campbell.
Makeup: Breanna Burge.
Few musical comedies from the imagination of Mel Brooks, now 93, likely would fit comfortably within the parameters of what we generally think of as traditional "community" theater.
Considering the often older, and more conservative, demographics of so-called community theater, Brooks' juggling sexual puns and images might offend certain season supporters/subscribers. With only that in mind, some may feel surprised Lubbock Community Theatre chose "Young Frankenstein: The Mel Brooks Musical" as its major fall attraction at LHUCA's Firehouse Theatre.
On the other hand, many moons have passed since LCT has depended primarily on Neil Simon comedies and such musicals as "Big River" to sell tickets.  And besides, Brooks quite often is reaching back to the influences of American vaudeville.
As for the decision to ask Leah Tyson Houchin to direct her first large-cast musical, she, her cast and crew hit it out of the park. Never mind the semi-risque lyrics.
In truth, only a relatively small portion of the show makes use of, say, common slang words for breasts, or a particular image of "deep" love – and after all, anyone who recognizes the common Brooks persona from his movies, as well as all who truly enjoyed his 1974 black-and-white film classic "Young Frankenstein," will not be caught unaware.
But a couple seated next to me did not return after intermission, so it seemed apropos to start off by mentioning the elephant in the room.
OK, that's done.
Regardless, the play's only obvious major problem on opening weekend was an uncontrolled volume of the recorded background score … a mistake one hopes has been fixed by now.
Meaning the closing weekend of "Young Frankenstein: The Mel Brooks Musical" should be special indeed and very much worth seeing. If emphasis is placed on how well the cast interprets the original script, the score is high.
The play's book, by Brooks and the late Thomas Meehan, closely follows the movie's Oscar-nominated screenplay, penned by Brooks and Gene Wilder. Each properly parodies the original "Frankenstein" film from 1931.
The former Dr. Victor Frankenstein's success in regenerating life by using body parts, obtained via grave robberies, in now legendary laboratory experiments only served to upset and anger the leadership and populace of Transylvania.
That specific Dr. Frankenstein did not survive.
The good news is his only known relative, a grandson in America named Frederick, has no inclination to proceed with his grandfather's experiments.
As played by Travis Burge, the American scientist considers his grandfather's work insane – and distances himself further by insisting everyone pronounce his own name FRONK-enstein. Still, he must travel to Transylvania to close his grandfather's estate.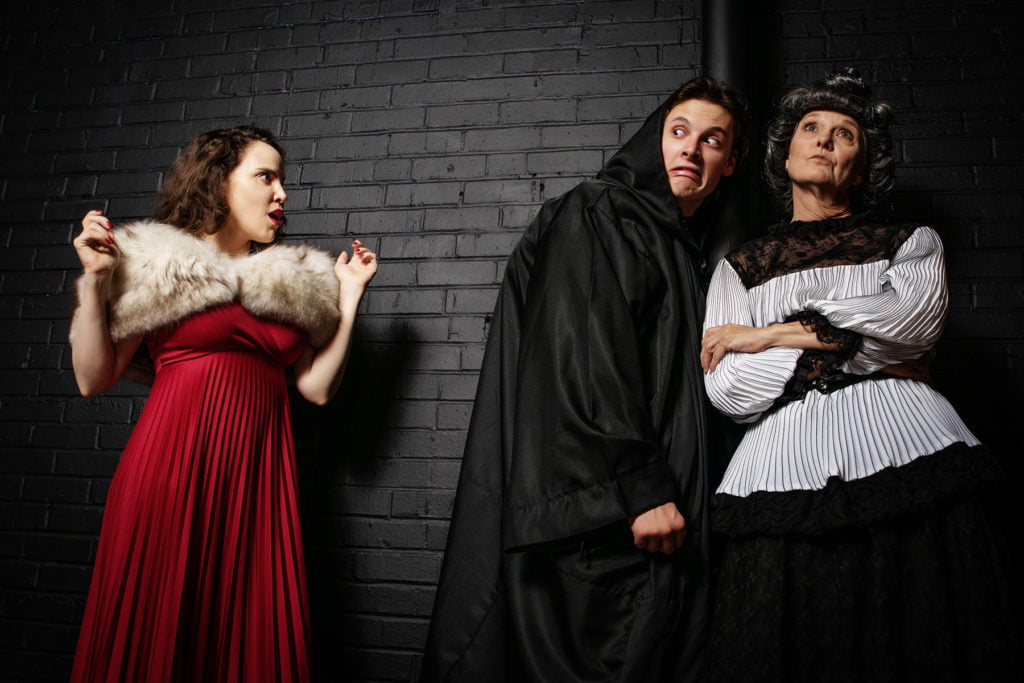 And that is where the fun begins, with the introduction of assistants Igor and Inga, played by Robert Elijah Kollman and Natalie Stanislaus, respectively, as well as Marla Maresca as housekeeper Frau Blucher. (Cue the winnying horses.)
(Tarbox, Kollman and Maresca are seen in photo above. Mark Umstot photography.)
Also costarring is Michelle Tarbox as Frederick's presumed frigid, or at least teasing, fiancée, Elizabeth, who eventually follows him (with entourage) from America to Transylvania.
When I requested photographs of the show's "monster," I was informed the director preferred to keep that visual a surprise. Actor Patrick Jones' body language and approach to the monster is terrific. He is well directed, capturing the subtleties of comic reactions and knowing how to handle each slapstick duet opposite Sean Allen Jones (no relation) as the blind hermit.
Burge has fun throughout, especially when excelling with first a pause and then a new, understanding expression shared with the audience.
Stanislaus has the difficult assignment of expressing sexual appeal introduced as naïve, while she later seems to know precisely what she wants. She delivers a hilarious performance.
Perhaps surprising to some is as much fun as Burge has relating to the creature and of course Inga, who seems far more supportive than Elizabeth, much of the funniest work is provided by Kollman as Igor. His movements, line delivery and connection to the American scientist could not be better timed.
Keep an eye on Igor even with the spotlight on others; one cannot help but appreciate decisions made by an actor who never steals the limelight, but nonetheless remains in character.
Plus, it's not just the ensemble being pushed by co-choreographers Molly Roberts and Sulma Benitez. Dance is manipulated as a pathway to smiles throughout this community production. (The Broadway musical's original choreography is credited to director Susan Stroman.)
Tarbox and Burge work splendidly together early in Act I as she dodges each farewell caress while singing the teasing refrains of "Please Don't Touch Me." Yet she's ready to give in to "Deep Love" after meeting someone in Transylvania other than Frederick.
There is a flowing song-and-dance charm to Burge (Frederick) and Kollman (Igor) performing "Together Again for the First Time." And it's hard to hold back from laughing when Inga (Stanislaus) sings her almost completely innocent "Roll in the Hay," and even more as Frau Blucher (Maresca) reveals musically, "He Vas My Boyfriend."
Theatergoers will be delighted to learn the film's standout scene also becomes the most unforgettable sequence on stage. Medical experiments, top hats and tails transform Burge's Frederick and the monster, played by Jones, into nothing short of rich and classy men about town, as music leads into a song-and-dance introduction to, yes, Irving Berlin's toe-tapping "Puttin' on the Ritz."
It is the funniest sequence in a play filled with hilarious one-liners and smile-worthy scenes.
Also deserving praise within the ensemble: Daniel Ballard, who wisely refrains from going overboard as Inspector Kemp and Randy Cook making an appearance as both the lost Victor Frankenstein and a surprise character from a different horror film.
Charlie Schwieterman hardly needs to be introduced as the village idiot; that really is a compliment.
Stage design and props deserve to be credited, as the departure/arrival on the ship docks, and especially the hidden Frankenstein laboratory aid in storytelling. The same must be said of Jim Bush's light and sound designs.
Good taste never was Brooks' goal when parodying the Frankenstein story. But if experiments with bodies, punctuated by bawdy humor, is your cup of tea, this is the musical comedy for you.