'Matilda'
Attraction: "Matilda the Musical" – with music and lyrics by Tim Minchon, book by Dennis Kelly, based on novel "Matilda" by Roald Deahl.
When: 7:30 p.m. Friday and Saturday and 2:30 p.m. Sunday.
Where: Lubbock Community Theatre production at Firehouse Theatre at LHUCA, 511 Ave. K.
Director: Zachery Kocurek-Gentry.
Crew: Annie Burge, music director; Breana Young, choreographer and Delaney Stallings, stage manager.
Tickets: General public, $20 and students and seniors, $15.
Information: 749-2416.
Roald Dahl's novel "Matilda" is found in the Young Adult section of libraries … but don't think Lubbock Community Theatre's current adaptation is for a younger crowd, despite a cast of 30 staging a musical adaptation.
Think that way and you'll miss a terrific show.
After all, "Matilda the Musical" long ago enjoyed award-winning runs on Broadway and in London's West End.
The local production of "Matilda the Musical" boasts stage direction by Zachery Kocurek-Gentry, music direction by Annie Burge, choreography by Breana Young – and a memorable and oh-so-mean villainess in the shape of former Olympic hammer champion Ms. Trunchbull, played in drag throughout by C. David Morrow.
Wildly exciting, this production is hilarious and loads of fun.
The title character is written as a girl of 5 1/2, a youngster who reacts to her parents' cruelty with such pranks as bleaching her father's hair and later attempting to purposely attach his hat to his head.
But accepting Matilda as a 5-year-old, portrayed by child actress Signe Elder?
I think not.
Yet it does not matter in terms of entertainment value.
Indeed, families should rush to buy tickets for weekend performances, all on stage at the Firehouse Theatre at LHUCA, 511 Ave. K.
The play co-stars a handful of experienced adults and quite a few younger stars – all reflecting admirable training. Sadly, program space does not allow for even short biographies for cast members.
No doubt patrons will want to know each actor's background, including where they trained and with whom. Be assured, these are not undisciplined tykes on stage.
Kocurek-Gentry, also director of theater at Lubbock High School, has placed strong voices where needed. Choreographer Breana Young and stage manager Delaney Stallings drilled a love for motion and dance into these youngsters.
Indeed, the young cast moves with pride, feeding off laughter.
Patrons, at least those walking in aware of the story synopsis, may question Matilda's magical abilities. They are not immediately present; Elder and her director save such visual surprises for major emphasis.
Be assured the acting, songs, sweetness and, quite often, over-the-top villainy keep all amused.
The formation of relationships at the school marks an important turn for Matilda who, until then, found best friends, and morals, introduced between the pages of books.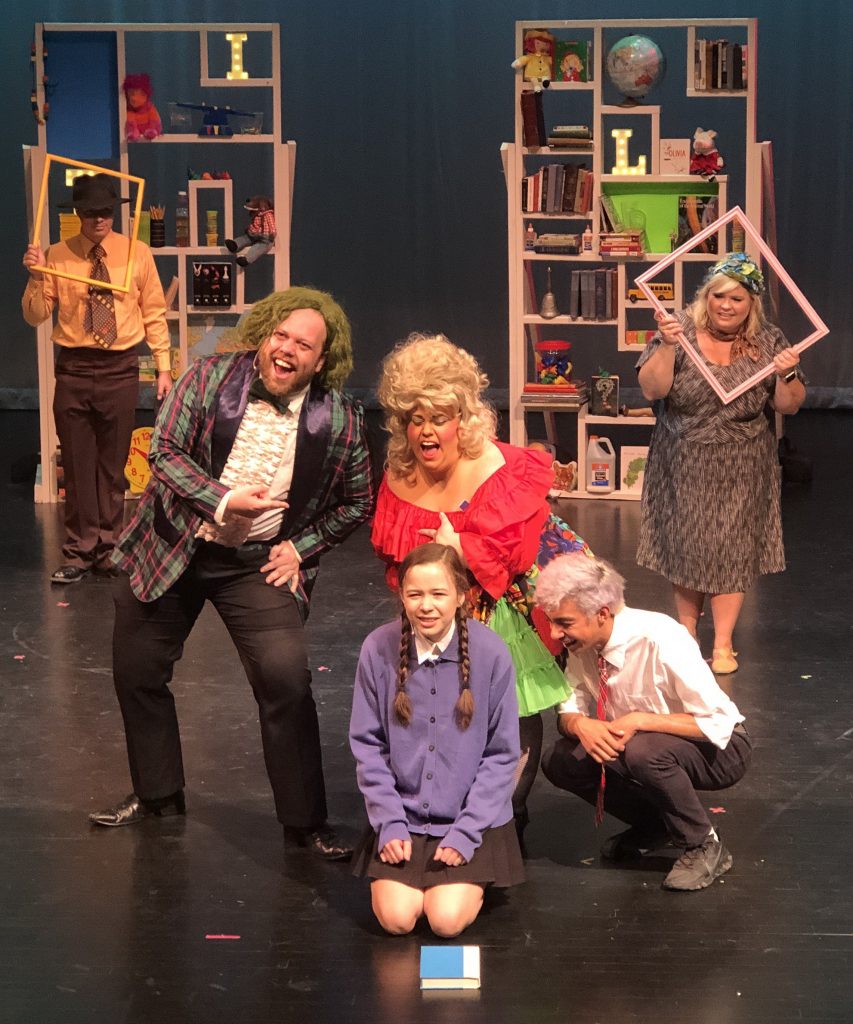 (In photo above, clockwise from left: Travis Burge as Mr. Wormwood, Emily Healy as Mrs. Wormwood, Noah Obando as Michael Wormwood and Signe Elder as Matilda Wormwood.)
Matilda's father, a crooked used car salesman, turned his back upon being told her gender. indeed, more than once Elder reminds him, "I'm a girl."
Elder delivers a strong, emotional performance as Matilda, captivated by stories she finds within books, no matter how much her father and mother stress that hours watching television could supply more knowledge and glamor.
Travis Burge and Emily Healy are a treat as her parents. Healy commits multiple burglaries, stealing a series of scenes with a combination of improvised muttering and louder insults.
Her devotion to high-volume dance brings more laughter. Young Noah Obando is at his funniest as a loyal son providing uninhibited musical support for Burge on a toy guitar. But Healy is a hoot throughout, aided in certain scenes by Matt Marin as a dancing gigolo.
To her credit, Natalie Stanislaus is terrific as sweet and supportive teacher Miss Honey. The director, and perhaps music director Annie Burge, likely convince her to hold back … and only gradually reveal her full vocal power. It's as though her character gains vocal strength only as she grows stronger emotionally.
A nifty bit of writing allows Matilda to share background with an original story; Jake Quintanilla and Molly Roberts fare well as Matilda's "escapeologist" and doomed acrobat. Janie Curl is splendid as Matilda's supportive librarian who never questions certain stories.
Each young actor in the cast deserves applause, especially for nailing Young's choreographed steps. Indeed, the rehearsals and hours of practice at home all are apparent.
Approval will arrive via applause and ovations.