From left: Sasha (Laureen Karichu) and Riley (LyaNisha Gonzalez). Photos by Allison Roberts.
Theater facts
Attraction: "Black Girl, Interrupted," an original drama by LyaNisha Gonzalez.
When: 2 p.m., Sunday.
Where: Charles E. Maedgen Theatre on Texas Tech campus.
Tickets: 
$15 general public, $5 students with valid IDs.
Director: Jesse Jou.
Scene design: 
Ian Olsen.
Costume design: 
Emilia Richardson.
Lighting design: 
Taylor Alfred.
Sound design: 
Matthew Mosher.
Information: 
742-3603.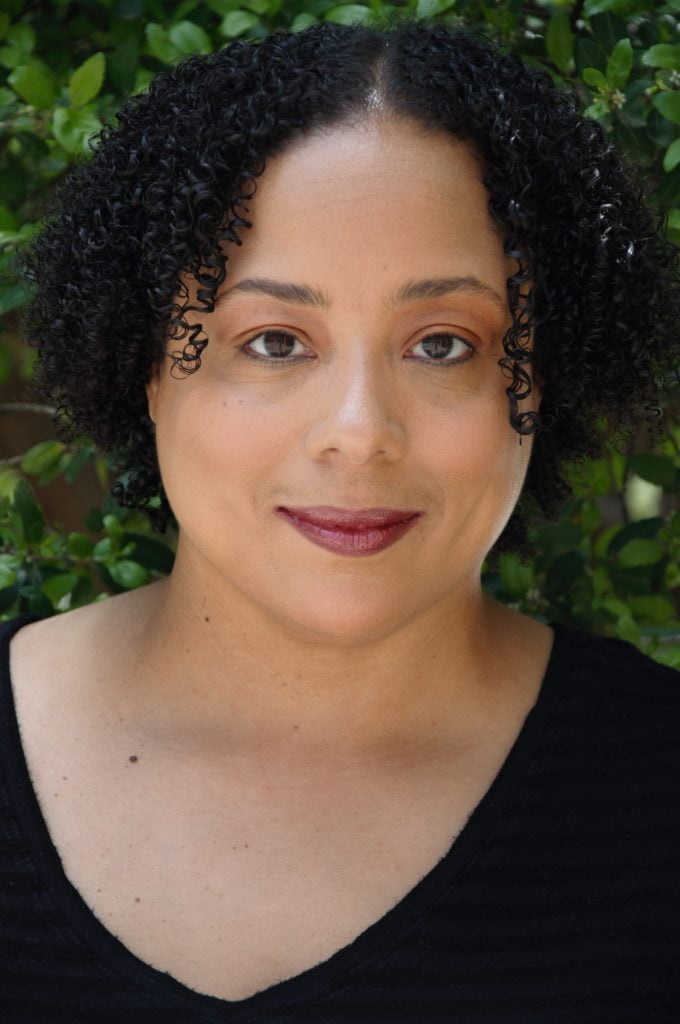 Playwright LyaNisha Gonzalez (in photo above) said she began writing "Black Girl, Interrupted" after watching Joan Brooker-Marks' 2012 documentary film "The Silent Truth" on Netflix. It dealt with the death of young soldier LaVena Johnson.
"Black Girl, Interrupted" will be performed one more time, this Sunday at 2 p.m. at the Maedgen Theatre on the Texas Tech campus.
"The Silent Truth" closes with statistics concerning a likely percentage of American female soldiers  beaten, raped, tortured or worse by fellow brothers in arms whom they trusted … even while stationed on military bases on foreign soil during times of conflict.
Adhering only to facts from the film would be shocking.
To the credit of Gonzalez, theater audiences will understand specific characters in "Black Girl, Interrupted" to a deeper extent.
Make no mistake; not every character is stripped bare. We would like to know more.
True, teenaged Army PFC (Private First Class) Sasha Green – with actress Laureen Karichu expressing the innocence, hope and energy typical of youth – is targeted for an expected fate.
What makes this story special, and more unpredictable, is tied to audiences being allowed to hear her plea – "See me" – and Gonzalez's creation of a story which attempts to accomplish just that.
MSgt (Master Sergeant) Samuel Berrios is credited as military advisor and director Jesse Jou takes advantage of his presence. Indeed, the play opens not with college students playing Army, but rather with a stark and believable military presence in Iraq expressed on stage.
Nor is the gradually escalating torment of female military recruits – invasion of personal space, a poke, a punch, a sniff – merely an advanced level of hazing.
Women subjected to such unwarranted punishments are both black (Sasha, Karichu) and white (Terri, Madelyn Robertson). This would emphasize that criminal squad members are androcentric, viewing women as undeserving of uniform and rank. Or is there more?
Racism is felt more than spelled out. A black enlisted man defies the cruel squad members, or tries anyway and the ultimate punishment is suffered by Sasha.
Yet with the cruel soldiers disguised by frightening masks and expressing the shared familiarity of so-called "droogs" within "A Clockwork Orange," Gonzalez won't let anyone simply point to Caucasian villains.
Even if that is precisely what audiences assume.
The play introduces Riley, a female reporter for the New York Times, convincing her editor and husband, Sidney, to let her further investigate the death of a young black soldier, Sasha Green.
Riley, who also is black, wants to write a book about Sasha, who died while serving her country in Iraq … but not in any expected manner.
Rather, the U.S. Department of Defense assigns officers to inform Sasha's parents that she committed suicide … by shooting herself in the head with her rifle. Never mind she was short, and her hand could not possibly reach the trigger to leave the resulting wound.
Gonzalez also co-stars as Riley, creating a personality in which determination dominates occasional confusion.
But Riley wants more than her editor.
Performed with a casual newsroom believability by Cy Scroggins, Sidney knows the literary audience. He understands what sells. To him, the main story is the military coverup.
But Riley senses Sasha's desire to be heard, to be fully known and is not content to report on her death without first painting a portrait of her life. Karichu is terrific, hinting at Sasha's personal hopes and dreams within monologues that might begin as old letters being read.
To Riley, the main story is Sasha.
The only proof of suicide is a medical officer's heavily redacted autopsy.
A Freedom of Information request reveals the original, unredacted autopsy – again inspired by "The Silent Truth" – and will leave all present gasping in reaction to what Sasha actually endured, torture which did not stop with her final heartbeat.
Jou draws quality performances across the board.
Still, it is not as easy to understand Riley's identification with Sasha on a personal basis, at least to the point of not being fully seen, or understood, by her husband.
More emphasis also might be placed on the importance of a photograph that reveals Riley and Sasha were in Iraq at the same time.
Christian Ruiz is excellent as Mr. Green, Sasha's father.
Robertson, as Terri, stands out in a scene after her discharge. She maintains an exaggerated tough persona only until Riley explains the importance of telling everything about how she and Sasha were treated in Iraq.
Terri is married, and her fears are illuminated with, "But then everyone would know what happened (to her)." She has been out of the Army for some time, but still has not found the strength (or trust) to tell her husband.
One assumes that "Black Girl, Interrupted" may be revised at least once more. That said, it remains brave, challenging and entertaining.