For many, Texas Tech Athletics are the weekend's best bets.
For example, coach Chris Beard's Texas Tech Red Raiders will play the LIU Brooklyn Blackbirds at 1 p.m. Sunday at the United Supermarkets Arena, 1701 Indiana Ave. The Blackbirds call Long Island University's campus in Brooklyn – one of 16 operated by LIU – their home.
On Sunday, however, they must face an undefeated team and sometimes deafening chants of Raider Power.
Ticket information is at https://texastech.com/sports/2016/6/8/tickets-basketball-tkts-html.aspx
Meanwhile, Saturday night is a do-or-die football game at 6 p.m. pitting the Red Raiders vs. Kansas State University at Jones AT&T Stadium. Texas Tech has two games remaining – and must win them both to have any hopes of going bowling after the regular season.
Beyond that, Tech's seniors, including Jordyn Brooks, deserve to hear cheers from a capacity crowd in their home stadium on Senior Night.
This promises to be an exciting game.
For perhaps less aggressive Best Bets, but an equally entertaining time, read on.
Flatlands Dance Theatre: 'Decadance'
Considering Firehouse Theatre provides limited seating and also many out-of-town supporters and past performers are committed to return to Lubbock with tickets for "Decadance" … one of this weekend's most exciting local attractions is Flatlands Dance Theatre's "Decadance: A Celebration of FDT's First 10 Years."
Don't delay in making ticket arrangements.
It will be performed by Flatlands Dance Theatre at 7:30 p.m. Friday and Saturday in the Firehouse Theatre at LHUCA, 511 Ave. K
Tickets are $25 for the general public and $15 for seniors, students and children. These prices include a $3 service charge.
Tickets are being sold at all local Select-A-Seat outlets. Call 770-2000 for details and, barring sellouts, tickets also can be purchased at the box office on the night of each performance.
The event celebrates the first ten years of Flatlands Dance Theatre. Look for ten audience favorites from the past decade.
Also promised are appearances by former FDT principal dancers, live music and visiting visual artists.
"FDT Decadance" is made possible by the Community Foundation of West Texas, the CH Foundation, and the City of Lubbock as recommended by Civic Lubbock.
Wines from Llano Estacado Winery are available at intermission.
The evening's featured choreographers are Allison Beaty, Ali Duffy, Genevieve Durham DeCesaro, Almendra Gonzales, Valerie Komkov Hill, Sarah Mondle, Kris Olson, Sarah Sabin and Rachel Ure.
Guest performers include David Box, Leslie Ortiz, Curtis Peoples, Katie Reed, Cathey Ward and Alex Webster.
Participating FDT dancers are Sulma Benitez, Ashlyn Brown, Celeste Delgado, Ali Duffy, Genevieve Durham DeCesaro, Sarah Estrada, Courtney Ferguson, Rachel Greim, Valerie Komkov Hill, Katheryn McKnight, Sarah Mondle, Briana Moody, Kris Olson, Katie Reed, Molly Roberts, Sarah Sabin, Madison Sandvig, Kaylie Seitz, Tamarah Smith, Shawnee Swann, Rachel Ure, Cathey Ward and Michelle Watts.
Flatlands Dance Theatre, Lubbock's first professional dance company, was formed in 2010. It seeks to enrich the West Texas cultural community by producing innovative and diverse dance works performed by professional artists.
'Frozen 2'
There was an evening, not that long ago, when I asked grandchild Hailey if she might be in the mood for a movie. I even offered her a choice of respected animated films "Abominable," "The Addams Family" and "Arctic Dogs," all available on the wide screen.
She shot me down, basically summing it up with, "Tell me when 'Frozen 2' opens."
OK, "Frozen 2" opens Friday.
In fact, millions have been reacting to the "Frozen 2" trailers and looking forward to this particular computer-animated musical fantasy.
Co-directors Chris Buck and Jennifer Lee return from the original 2013 "Frozen," as do veteran vocal cast members – including Idina Menzel as Elsa, queen of Arendelle; Kristen Bell as younger sister Anna; Jonathan Groff as Anna's boyfriend Kristoff (with his pet reindeer Sven), and Josh Gad as snowman Olaf, created by Elsa's ice magic – but who evidently no longer has to worry about melting.
Hoping to avoid spoilers, I did skim a few early reviews. "Frozen 2" has not enjoyed the same magical reviews given the opener, but by no means are critics suggesting to just let it go.
While the overall sequel has some problems, the songs are said to be even better than the ones in "Frozen."
Let's just hope John Travolta does not have to attempt to enunciate Ms. Menzel's full name again at the next Oscars broadcast.
That said, this is a competitive year for filmmakers wanting an Academy Award for Best Animated Film.
If I were allowed a vote, it just might go to the trilogy-ending "How to Train Your Dragon: The Hidden World," from Dreamworks. Despite my appreciation for "Alita: Battle Angel," director Dean DeBlois' beautiful images in "Hidden World" have stayed with me.
Mind you, the Oscar odds favor a tight race between Pixar's "Toy Story 4" and Walt Disney's "Frozen 2" – but a substitute for the latter film might end up being the so-called live-action "The Lion King," also from Disney, which competes in the category of Best Animated Feature.
This year also introduced animated sequels to "The Angry Birds" and "The Lego Movie." The dozens of original features include the animated Christmas movie "Klaus," co-produced by Netflix.
But back to "Frozen 2"…
This long-awaited musical sequel opens three years after events taking place in the original.
Elsa begins to hear a strange sound from the north calling to her. Together with her sister Anna, Kristoff, Olaf and Sven, they embark on a journey beyond their homeland of Arendelle. Their goal: Discover the origin of Elsa's magical powers and also save their kingdom.
Paul Briggs reprises his role of Marshmallow, a snow monster created by Elsa.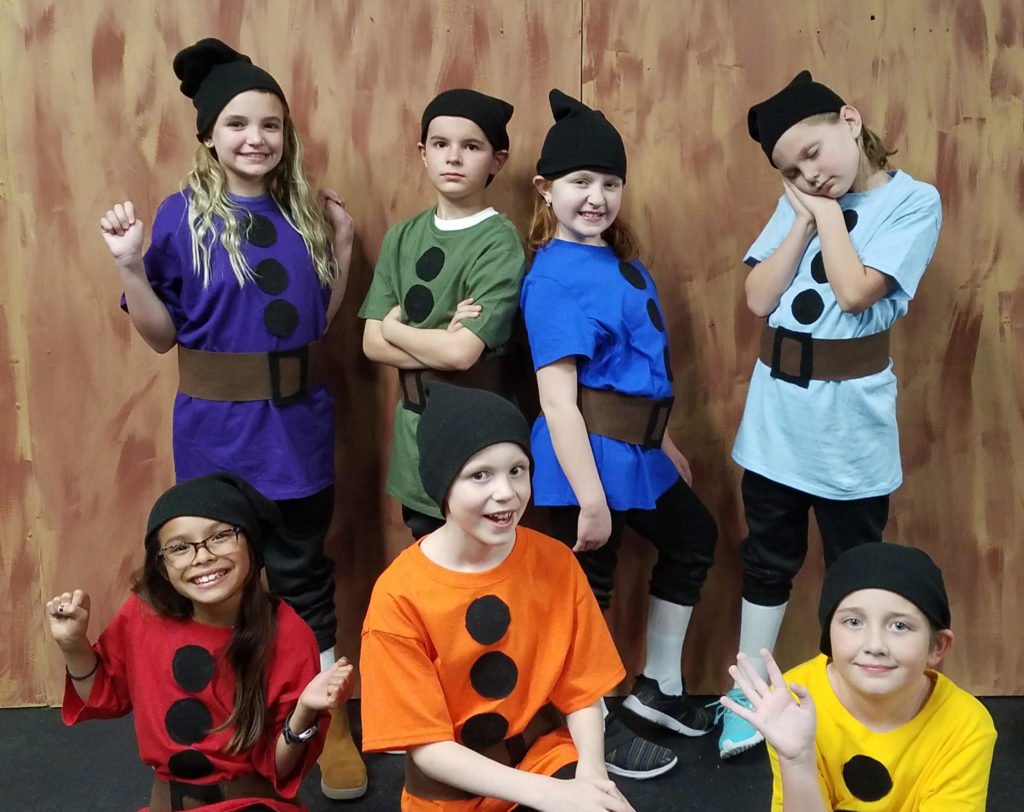 The Seven Dwarfs: Front row from left, 
Joleigh Torres, Jack Lindsey, Atticus Haislip. Back row from left, 
Hadley Haislip, Ben Lindsey, Blakely Clark, Addison Parum. 
Photo by Nicole Caddel
'Snow White'
Lubbock Community Theatre this year shines its lights on a Youth Artist Guild production of playwright Tim Kelly's "Snow White," co-directed by Nicole Caddel and youth director Destiny Duniven.
The family-friendly production will be staged at 7:30 p.m. Friday and Saturday and again at 2:30 p.m. Sunday at Lubbock Community Theatre, 4230 Boston Ave. Reserved-seat tickets are $15 for the general public and $10 for children and students age 9 and younger.
Reservations can be made by calling 749-2416, or by visiting website lubbockcommunitytheatre.org.
An opening night reception on Friday is sponsored by Nothing Bundt Cakes.
The co-directors' crew include Ella Lacombe as lighting designer, and Liam Barret and Joshua Claussen as co-sound designers. Team members designing costumes are Marissa Bentley, Kaytlin Claussen, Destiny Duniven, Alley Dycus, Korey Kern, Riley Parum, A.K. Wells and Exie Windell.
Many roles are double cast.
The play's co-stars include Hannah Campbell and Saige Jolley as Snow White, Edyn Walesiak and Azlynn Pinner as the Evil Queen, Sara Haney and Dakota Boyles as the talking magical mirror, Stevie Campbell and Adalee Orosco as Cat, Faith Trevino and Maya Ortiz as Esmerelda, and Gwendolyn Johnson and Claire Cohen as Crone.
The Princess is portrayed by Marissa Bentley, Kaytlin Claussen, Alley Dycus, Kori Kern, Riley Parum, A.K. Wells and Exie Windell.
Other roles are Caedon Lindsey and Lincoln Boyles as the Huntsman, and Liam Barrett and Joshua Claussen as the Prince.
LCT's youth production is student-produced, with students acting, operating lights and sound, designing costumes and makeup, and serving as ushers and stage managers.
'Elf'
Will Ferrell is not one of my favorite actors. Mind you, there are times when I do appreciate his movie work. He's been funny in several features and surprisingly won me over big time with his touching portrayal in the film comedy "Elf" – a motion picture which finds a baby unknowingly crawling into Santa Claus' bag of toys.
Upon returning to the North Pole, the baby is allowed to grow up as an oversized elf named Buddy, played by Ferrell. And if Buddy is a bit bigger than most elves, be assured that Buddy's heart also is huge.
The 2003 film, written by David Berenbau and directed by Jon Favreau, was adapted for the stage as a musical seven years later. While it did not succeed with as lengthy run on Broadway, it has been brought back numerous years during the Christmas season and consistently attracted large audiences.
This year finds Lubbock Moonlight Musicals staging "Elf: The Musical" at 7:30 p.m. Friday and Saturday and at 2 p.m. Sunday at the Lubbock Memorial Civic Center Theatre, 1501 Mac Davis Lane.
The play will be repeated on Friday through Sunday, Nov. 29-Dec. 1, the following week.
One of my favorite local musical actors, Keegan Peck, has the title role of Buddy the elf. Gerald Dolter returns to handle stage direction. Chris Jorns handles musical direction, with choreography by Tamara Klotzman. Costumes are designed by Jilliam Johnstone.
Co-stars include Mallory Flores as Jovie, and Mitchell Britton as Walter, Buddy's biological father.
One major change finds that story narrated by Santa, portrayed by Ron Meadows.
Reserved seats are $50, $35 and $25. Tickets can be purchased at any Select-A-Seat outlet or by calling 770-2000.
Rock Music from the '80s
Produced by Don Caldwell, yet another tribute concert – this one called The Ultimate '80s Rock Tribute – will be performed at 7:30 p.m. Friday at the Cactus Theater, 1812 Buddy Holly Ave.
Reserved floor seats and standard balcony seating are $20, with limited seating in the balcony box $40. Those buying balcony box seats also are given concessions all night at no charge, provided they show their ticket before ordering food.
Take note: Listed Cactus ticket prices are "base prices;" varied fees and tax always will be added to base prices at time of purchase. Tickets also can be purchased in advance by using a link at cactustheater.com.
All sales are final. The Cactus Theater does not permit exchanges, refunds or credit for future shows in exchange for unused tickets. The theater's box office is staffed at 3 p.m. Monday through Saturday, unless Monday is a major holiday.
Call the Cactus at 762-3233, or visit online site cactustheater.comfor more information.
Friday's performers include Sheena Fadeyi, Avery Guyear, Brandon Gwinn, Jonny Hughes, Jeff McCreight and Haley Simpson.
They will be performing high energy hits by AC/DC, The B-52s, Pat Benatar, The Eurythmics,  Guns N' Roses, Heart, Joan Jett, Journey, Bon Jovi, Cindy Lauper, Tom Petty, The Police, Van Halen and Whitesnake, to name just a few.